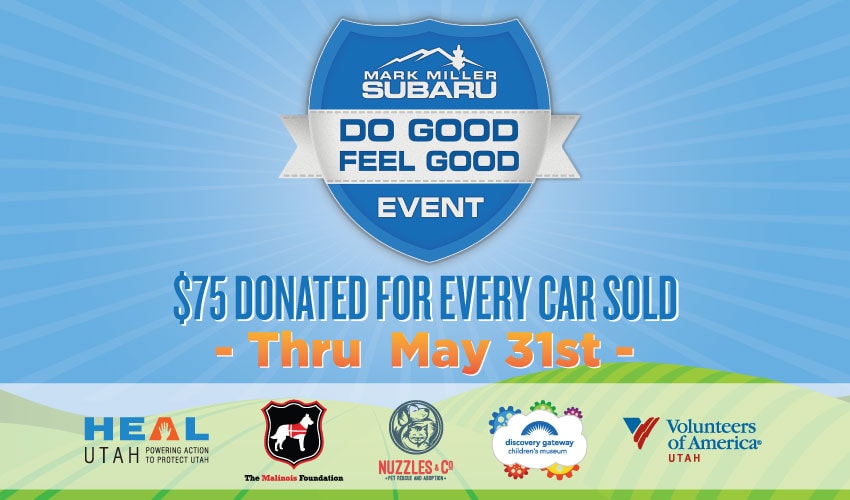 Crosstrek Giveaway
To celebrate our 11th Annual Do Good Feel Good event, Mark Miller Subaru is giving away a 3 year lease on a 2018 Subaru Crosstrek!  People can register to win the Crosstrek by listening to Mix 105.1 on the radio, visiting Mix 105.1's website or submitting a "Leave Your MARK" story on our website.  Once registered, we will narrow down to 105 qualifiers who will join us at our Community Day on June 9th, and narrow that down one more time to 15 individuals (including the golden key individuals) who will receive keys to try and win the Lease.  Keep reading for more information!
**Mark Miller Subaru employees and their direct family members are not eligible to win**
"Leave Your Mark" Stories
Mark Miller Subaru's Annual Do Good Feel Good event is in its 11th year of raising money for charitable organizations in Utah.  Because this event is all about celebrating and supporting charitable causes in our community, we want to hear stories of individual champions and community organizations who are "leaving a MARK" on our world. Each week Mark Miller Subaru will select and highlight one story and will surprise the nominated charity with a $500.00 donation!
All nominees, and those who nominate, whose story is selected, will have the opportunity to be chosen as one of our 105 qualifiers to win a lease on a 2018 Subaru Crosstrek!
 Click Here to Nominate Someone You Know!
"Heart MARKS the Spot"
Each week throughout the month of May, Mix 105.1 will share a clue with their listeners to help them find one of FIVE hidden keys throughout Salt Lake City.  If a key is found, the individual is automatically added to the group of 10 to try their shot at winning the Crosstrek on June 9th!!  Clues will be released on Tuesdays and Thursdays each week on the Mix 105.1 morning show and through social media.
Click Here For Rules.

.
Random Acts of Kindness
Throughout the month, Suba Bleu is excited to be doing Random Acts of Kindness for people in our community!  He hopes to make a difference in people's lives, AND to encourage everyone else to do their own random acts of kindness!  If you don't already, make sure to follow Bleu on Facebook so you can be part of the fun.


Nuzzles and Co.

To provide a loving, nurturing place where animals can get healthy and learn positive behaviors, to then find loving homes for each one of them. We also work to educate people on the humane treatment of animals.

  
Discovery Gateway

To inspire children of all ages and abilities to imagine, discover, and connect with their world to make a difference.



Volunteers of America

To offer emergency shelter beds, 24/7 assistance, three meals a day and free legal services through our Homeless Youth Legal Clinic. Programming dedicated to education assistance, job training, counseling, and volunteer-run groups.



Heal Utah

To promote clean air and renewable energy, and protect Utah from nuclear, toxic and dirty energy threats.




The Malinois Foundation

To provide service dog training to Veterans and Americans in need with both physical and /or mental impairments.