Whats the Difference Between the Two Models ?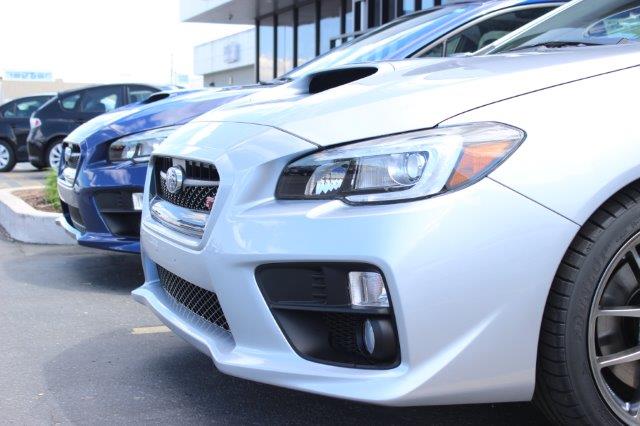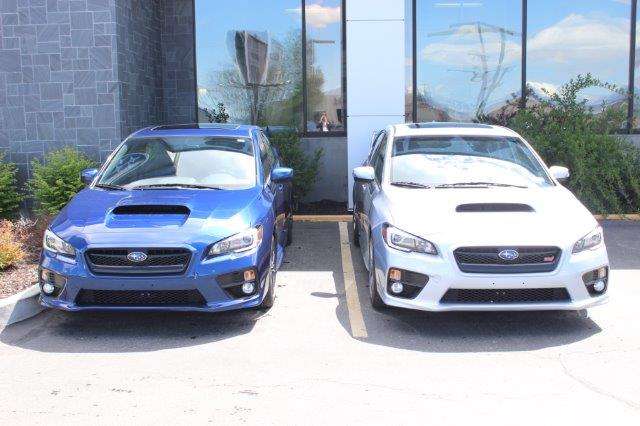 From the outside, both models look very similar, minus a giant wing and a pink little badge, different wheels and one may even be tricked!
---
Under the Hood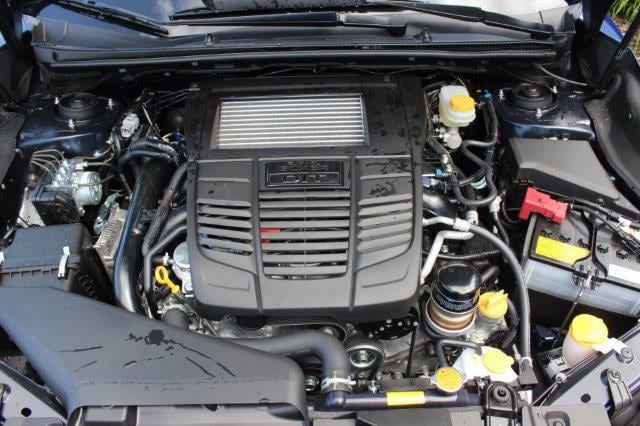 WRX 2.0 Liter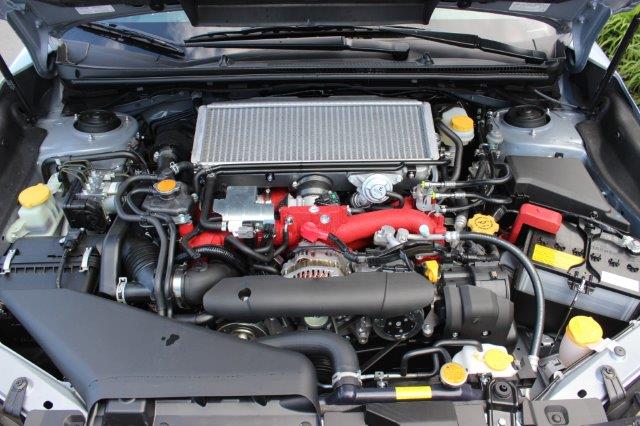 STI 2.5 Liter
---
Head to Head Comparison Table
| | | |
| --- | --- | --- |
|  Compare |  WRX |  STI |
|  Horse Power: |  268 hp @ 5600 rpm |  305 hp @ 6000 rpm |
|  Torque: |  258 lb-ft @ 5200 rpm |  290 lb-ft @ 4000 rpm |
|  Bore and Stroke: |  86.0 x 86.00 mm |  99.5 x 79.0 mm |
|  Maximum Boost: |  15.9 psi |  14.7 psi |
|  Fuel: |  Direct Injection |  Sequential Multiport Injection |
|  Turbo: |  Twin Scroll |  Single Scroll |
|  Engine:    |  2.0 - Flat Four |  2.5 - Flat Four |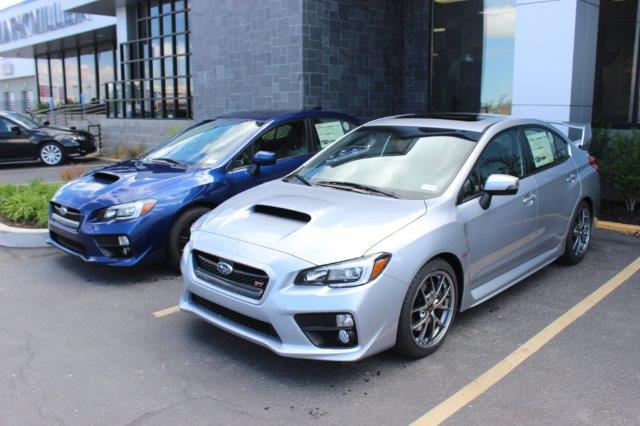 The MSRP for the 2015 Subaru WRX starts at $26,295 for the base model and the 2015 WRX STI starts at $34,495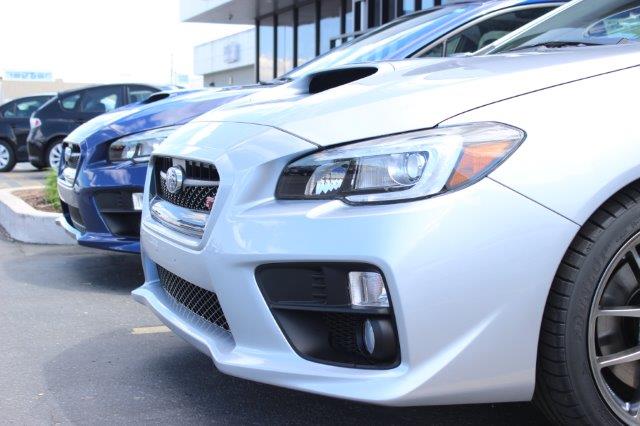 Head to head both cars look aggressive and ready for the road, the extra cost for the STI adds in upgraded and revised track tuned suspension, Brembo® performance braking system and a Driver Controlled Center Differential (DCCD)*  This allows the driver to add-to or take-away power from the rear wheels.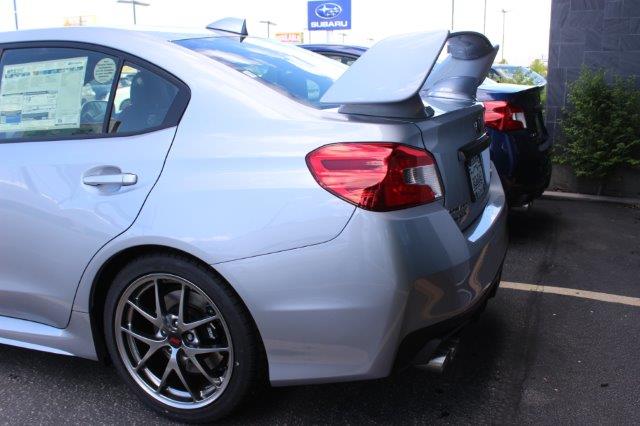 The STI features a larger rear spoiler and LED Headlights (also available on the WRX Limited). Both models have rear LED taillights.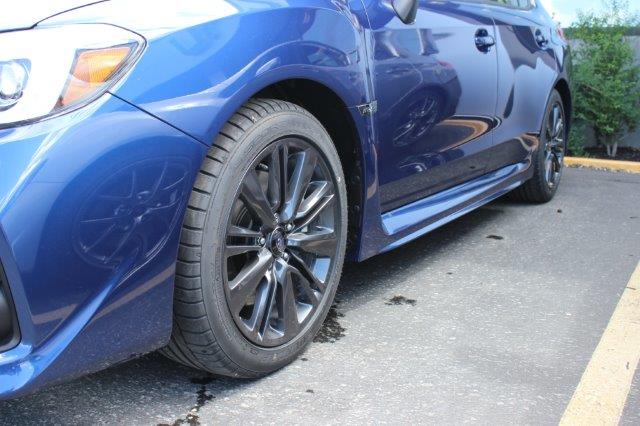 The 2015 Subaru WRX and STI have the Same wheel base of 104.3 inches, a 3,267 lb curb weight and 70.7 inch width. The WRX comes with 17 x 8.0-inch spoke aluminum-alloy wheels.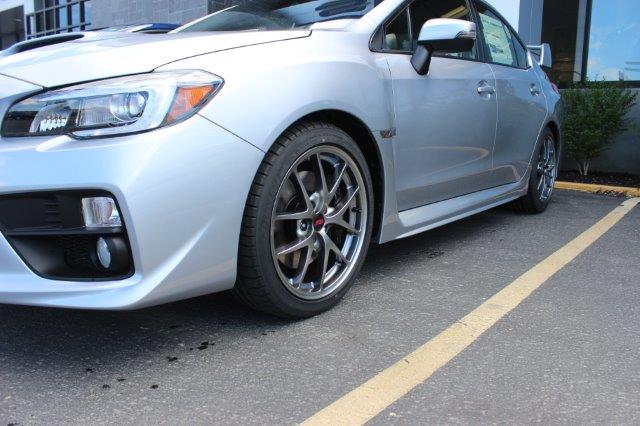 The 2015 WRX STI sits on 18 x 8.5-inch 5-split-spoke BBS® Aluminum-alloy wheels in a high-luster silver finish. Also come in gold on the STI Launch Edition and the STI also has a 18 x 8.5-inch 10-split-spoke aluminum-alloy wheels.
WRX STI Interior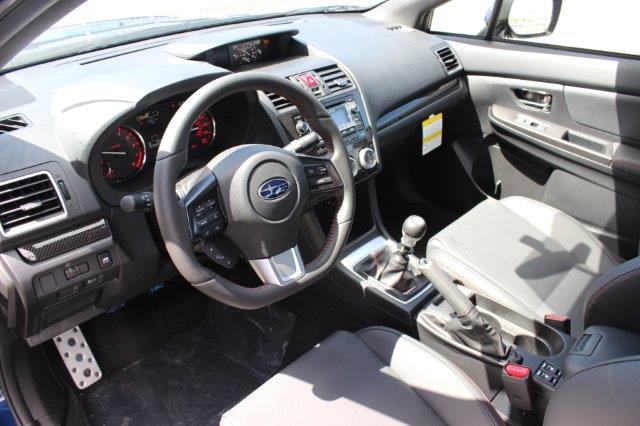 2015 WRX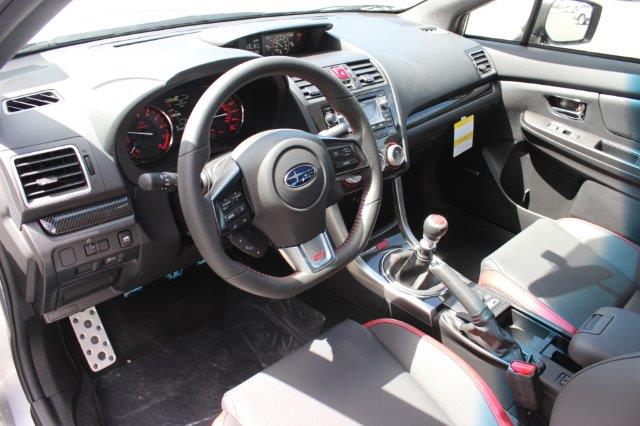 2015 STI
Interior design is nearly identical without exception to trim and small fine detail.
Both cars have newly redesigned sport steering wheels, a plastic carbon fiber styled trim and a new in dash display.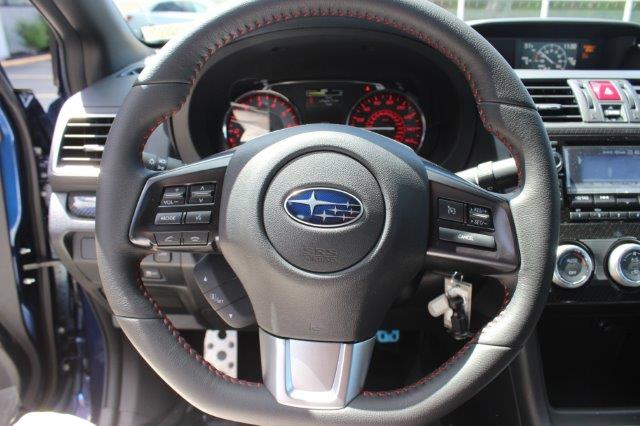 2015 WRX Sport Wheel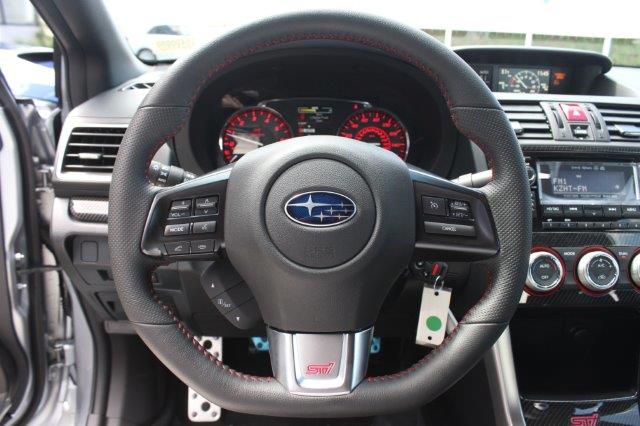 2015 STI Sport Wheel and Push Button Engine Start.
A small difference between the trim on the bottom.
---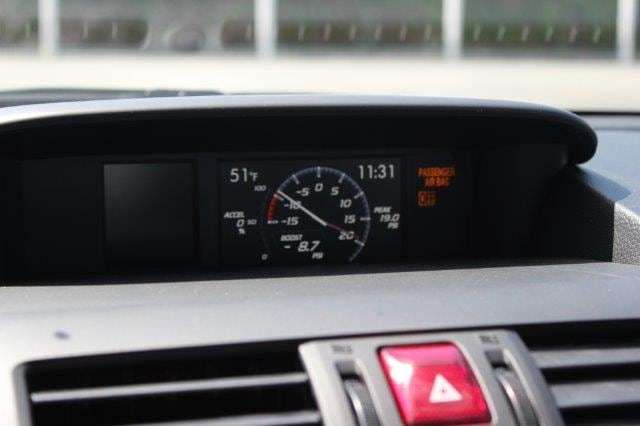 Digital Boost Gauge WRX & WRX STI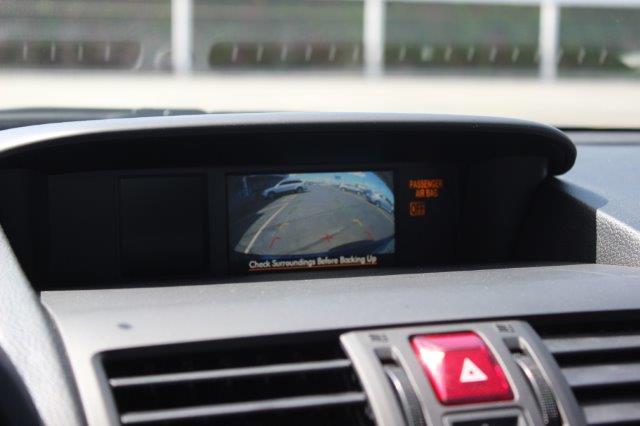 Both models feature a rear view camera.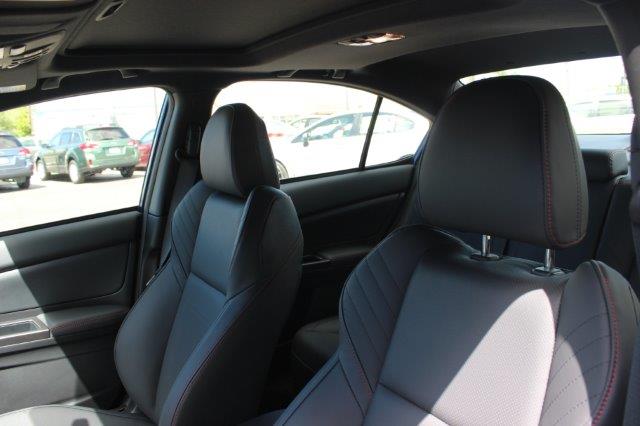 2015 WRX interior features sport styled seating with red stitching as seen in this Limited trim.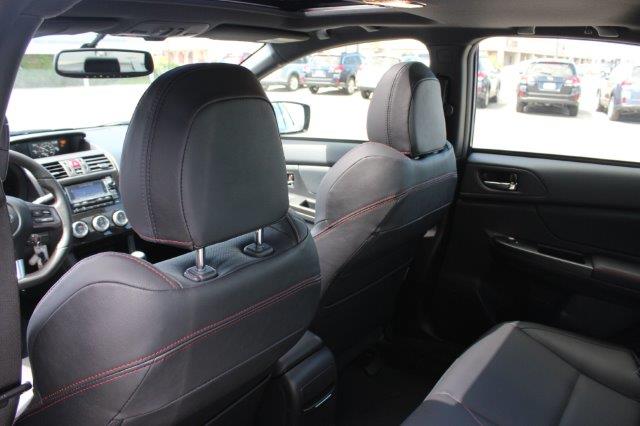 ____________________________________________________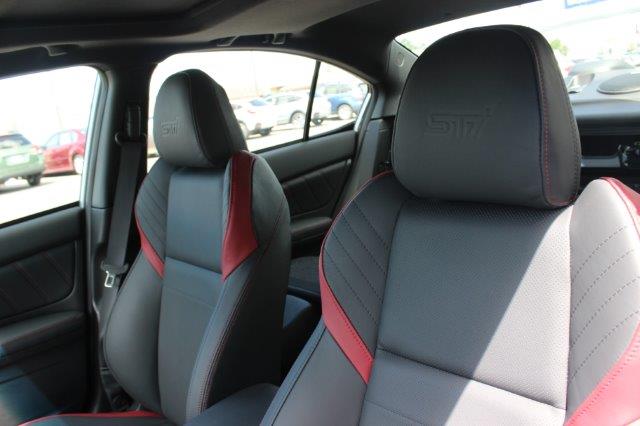 The 2015 STI has a stamped head rest with a red striped interior trim.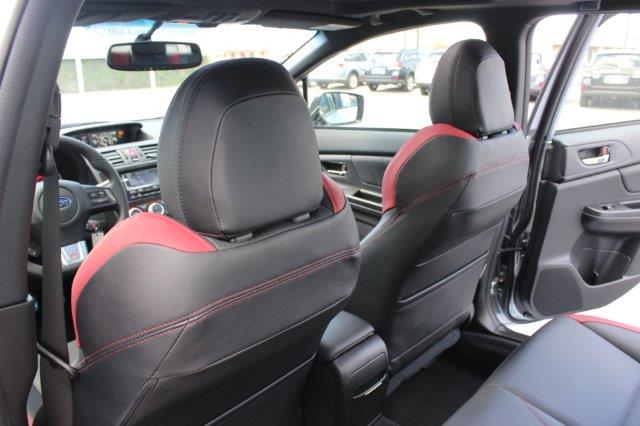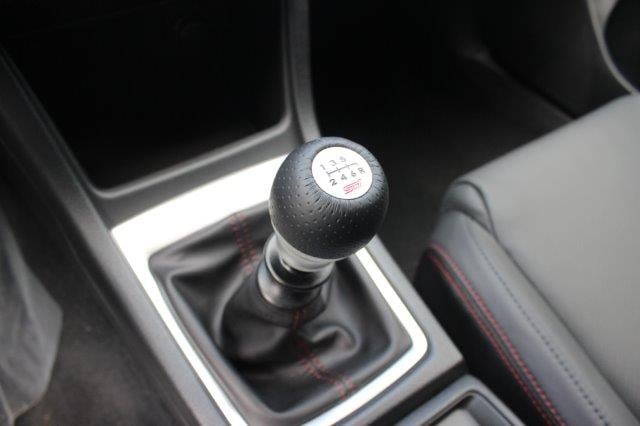 2015 WRX Shift Knob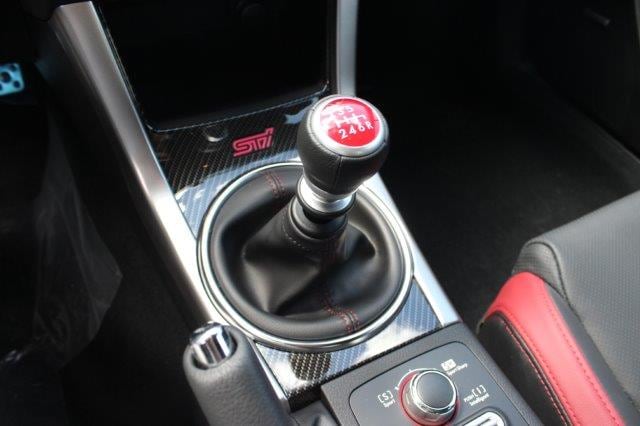 2015 STI Red Trimmed Leather Shift Knob.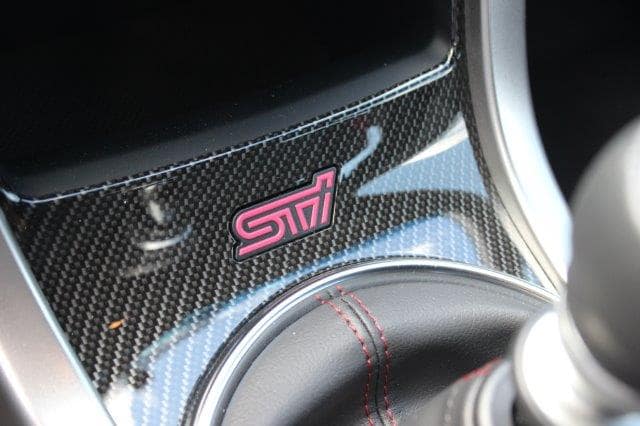 ---
2015 WRX STI SI-Drive & DCCD
The 2015 Subaru WRX STI lets the driver choose from three modes of driving characteristics with Subaru Intelligent Drive (SI-DRIVE) technology to suit your preferred taste in control. Then put the power of symmetrical All-Wheel Drive in your hand. The Driver-Controlled Center Differential (DCCD) works with the close-ratio 6-speed  manual transmission, so you can adjust the amount of lock between the front and rear wheels, letting you match your vehicle's handling attitude to your own.
Got a Question? Ask Us Here!
Hours
Monday

09:00am - 08:00pm

Tuesday

09:00am - 08:00pm

Wednesday

09:00am - 08:00pm

Thursday

09:00am - 08:00pm

Friday

09:00am - 08:00pm

Saturday

09:00am - 07:00pm

Sunday

Closed
Hours
Monday

09:00am - 08:00pm

Tuesday

09:00am - 08:00pm

Wednesday

09:00am - 08:00pm

Thursday

09:00am - 08:00pm

Friday

09:00am - 08:00pm

Saturday

09:00am - 07:00pm

Sunday

Closed
Parts Request