The 2021 Subaru Love Promise Customer and Community Commitment Award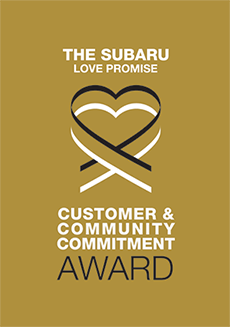 We've been nationally recognized for our dedication to our customers, our community, and the Subaru Love Promise.
We're honored to receive the 2021 Subaru Love Promise Customer and Community Commitment Award. This award nationally recognizes elite Subaru retailers who provide an exceptional customer experience at every interaction with Subaru. These retailers have also demonstrated an outstanding commitment to supporting passions and causes in their local communities in important areas such as the environment, community, health, education, and pets.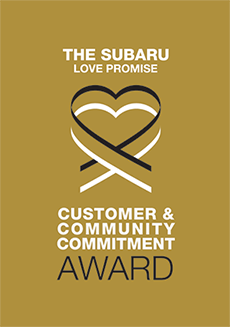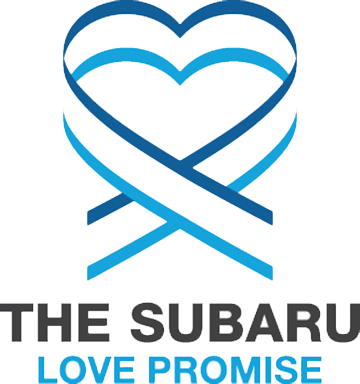 What is the Subaru Love Promise?
Subaru and our retailers believe in making the world a better place and the Subaru Love Promise is our vision of respecting all people. This is our commitment to show love and respect to our customers and to work to make a positive impact in the world.
How is Mark Miller Subaru South Towne dedicated locally to the Love Promise?
At Mark Miller Subaru, our Love Promise to Utah and the Salt Lake area can be seen in our partnerships with local nonprofits and charities. We are grateful to not only to be part of the Salt Lake community, but to serve it as well.
Discovery Gateway Children's Museum
Big Brothers Big Sisters of Utah
Love Promise Stories from Mark Miller Subaru South Towne
Subaru and Mark Miller Subaru South Towne believe in making a positive impact on the communities in which we live and work. We uphold that belief through our Love Promise Community Commitment. Every month, we select inspiring stories from customers and partners from around our area who strive to support our collective commitment and feature them here
Helping Fight Hunger Statewide - Heidi C
With children at home and countless adults out of work, Utah Food Bank is seeing the need for assistance significantly increase at all program and partner agency sites. Since January 2020, we have increased our deliveries by 21% and have seen a 113% increase in households served over the same time period last year through our Mobile Pantry Program. With widespread school closures last year and into this year, our Kids Café after-school meals couldn't be served, not to mention the missed school breakfasts and lunches for many children. We worked with local communities and Salt Lake School District to distribute 70,000 bagged meals to help replace these missed meals when schools were closed early last spring. During the summer we served over 195,000 meals through our Summer Feeding Program, and we continue to offer bagged meals at schools that remain closed. In total, we served 474,000 meals to kids during 2020. Currently 511,000 Utahns, which equates to 1 in 6 individuals, are at risk of missing a meal today. The need is huge. Even more alarming, 1 in 5 kids in Utah are unsure where their next meal is coming from. These statistics are staggering and it will take a collective effort to reverse these trends and fight hunger statewide in Utah, which is why we are honored for partnerships like Subaru. Shortly after the COVID-19 pandemic started moving across the United States and our country saw the extent to which it was affecting local communities, Subaru of America partnered with Feeding America to help get food in the hands of those in greatest need. This partnership was established in April 2020, where Subaru of America and the Subaru retailer network donated 50 million meals to over 200 Feeding American food bank members across the country to support those hit hardest by the pandemic, including the Utah Food Bank. Nearly a year later with a U.S. death toll of 500,000 and counting, Subaru doubled down and committed another 100 million meals to be distributed as more of our community members slipped into hunger and homelessness. As part of this initiative, Mark Miller Subaru Midtown and South Towne donated more than 450,000 meals to the Utah Food Bank to help feed Utahns in need. To engage employees and customers in this emergent food crises, Mark Miller Subaru hosted a food collection drive in March 2021 and collected another 182 pounds of food to help feed our community. Even as COVID vaccines become available to the general population, it will take time for us to recover and those who lost their jobs need to be part of our critical recovery effort. We can all do our part to let our neighbors know they are not alone by supporting and donating to the Utah Food Bank and participating in their first-ever Feed Utah statewide food drive. For more information on Feed Utah and to learn how to host your own food collection drive, visit www.utahfoodbank.org.
---
Love Heals All, Including My Renezmae - Douglas J
This is a story of love, fear, heartache, overcoming, and gratitude. This is our story of our daughter Ren and the fight for her life. My family lives in Pocatello, ID, and in October of 2014 my wife, Michelle and I went in for an ultrasound for our expected daughter. Fear struck when the tech said something did not look right. This news led to the first of many, many trips to Primary Children's Hospital in Salt Lake City--the best pediatrics specialty hospital in the region. To our dismay, our daughter was diagnosed was dilated cardiomyopathy (DMC). We were told she would be born with an enlarged heart and would likely need a heart transplant within a year. Heartache struck. We were beyond devasted, our daughter, not yet born, was already slated for major heart surgery. Ren was born on October 16, 2014, where upon she was whisked away to Primary Children's NICU in a bubble with tubes and monitors. Far away from our family and friends, we took shelter at the Children's Hospital as this would be home for the next couple months. Michelle and I researched and studied so that we were prepared as parents to take care of Ren for the short time we expected to have with her. Ren was finally released to go home with 24/7 oxygen support and a cabinet full of medications. It was challenging, but we were back in Pocatello and Ren was finally home with her two brothers! Over the next year we took frequent trips to Primary Children's. She started overcoming her condition and was about to be released from oxygen and medications until she got rhinovirus. She eventually recovered and no longer needed oxygen, but the doctors had more bad news. We were told that her heart was no longer improving and the virus exacerbated the situation. Ren needed on-going monitoring and inevitable heart transplant because she had one of the most acute conditions of DMC the doctors had seen. The emotional rollercoaster was nonstop, but our immense love for Ren gave us strength! The next five years were full of love, family, and prayers. Ren started to grow up and earned the nickname "Sassy." She never crawled; she went from rolling to butt scooting to walking, which made for some great videos. She was not the kind of child to ever take things easy or to make things easy, but we were so grateful that her condition was stable and we had that time together. Ren got to live life as a little girl and do all of the things healthy kids do—she learned to swim, sing and dance, and went on roller coasters and camping trips. She found a love for ballet and won two medals. Life was normal, but we were always vigilant, always waiting, always concerned. One night in January 2020, Michelle noticed a change in her breathing pattern as she slept. Before we knew it, we were back in the familiar setting of the emergency room. We were told her heart was failing and we were preparing for the worst. She was finally listed for heart transplant. It's at this point in the story where Ronald McDonald House Charities (RMHC) and Mark Miller Subaru came into our lives. Ren had three open heart surgeries over the next three months, was intubated for 17 days, and had a RVAD (right ventricular assisted device) and a LVAD (basically a portable pump that is inserted into the heart to help pump blood). We became full-time residents of RMHC, and because of the COVID-19 pandemic they had to give us off-site housing. That meant multiple trips from the house to the hospital each day. To say money was tight would be the understatement of the year. Luckily, RMHC gave us a free Subaru rental vehicle through the support of Mark Miller Subaru so that my wife and I could be there for our daughter while still trying to keep our family together. We cannot thank Mark Miller Subaru enough for their support; without it, life would have been utterly chaotic while juggling life with two boys in Pocatello and a sick daughter in a Salt Lake City hospital. Travel engulfed our life and exhausted us. We finally decided to pack our house into a storage unit and fostered out our pets until we were able to get back to normal life. Many long and solitary months passed by, until finally in January 2021 we got the call. Ren squealed with joy as luck shined on us and a compatible heart transplant became available. Everything with the transplant went textbook perfect and recovery time was unheard of. But with the good comes the bad, and after a few days we discovered Ren had a brain bleed. She bounced back with some medication, and as of now things seem to be progressing at a pretty good rate. She's been released from the hospital, her numbers continue to stabilize and look good, and she is filled with her normal sassy personality. No child should have to go through what our little Ren has experienced these past five years, but our love prevailed and at her current recovery rate, we are planning to return to Idaho in a couple of months and start a new chapter in our lives.
---
Community is the road to recovery - Maara B
The mission of Fit to Recover is to provide a safe place for people recovering from substance misuse disorder to connect through fitness, nutrition, creative arts, and community service. As the Community Service Director, it's my job to coordinate our community service projects that our clients participate in each quarter. However, finding COVID-friendly projects has been a real challenge this past year. For 2021 I decided to narrow my focus to our own neighborhood and see who may be in need of community service projects in our backyard. That's when I reached out to Riley Elementary. Admittedly, I didn't know much about them other than they were an elementary school up the road from us. My timing was perfect. I learned Riley Elementary served kids in kindergarten through 5th grade and was about to start in-person classes again for the first time since the beginning of the pandemic. Angela, the school principal, was ready to take every precaution to keep the students and faculty safe but was apprehensive about the amount of PPE they had and would need as they started re-opening. It felt like true serendipity, a way for our Fit to Recover community to support our elementary school neighbors by providing some PPE. Then I started thinking "how are we going to pay for this?" Fit to Recover is a very lean non-profit, and our clients are struggling to rebuild their lives. We did not have the financial means to pulls this off. Enter Mark Miller Subaru and their Love Promise program. Fit to Recover could not be more excited about our partnership with Mark Miller Subaru as their "Loves to Care" partner. I reached out to them to see if there was anything they could do to help Riley Elementary. Before I could even finish asking them for help, they were quick to respond "absolutely." The school has 12 home classrooms for students, so our plan was to provide each classroom with a gallon of hand sanitizer, kid-sized masks, and a book on returning to school during the pandemic that teachers could read with their students to help teach them safety procedures in a fun way. Minus the masks, our plan was successful (apparently kid's masks are in high demand with so many schools returning to in-person)! We dropped off our supplies with Angela today, and wished everyone a safe and fun return to class. We look forward to staying in touch with our friends at Riley Elementary to see how we can continue being the best neighbors we can be, and providing meaningful community projects for our Fit to Recover clients to practice acts of selflessness and love!
---
Mark Miller Subaru Veterans Day Recognition - Jenny C
On November 10, an army of volunteers from The Malinois Foundation collaborated with Mark Miller Subaru to recognize Veterans for Veterans Day. Together, we placed over 80 "A Hero Lives Here: signs in Salt Lake County and surrounding territories for Veterans who responded to our call to action. Our audience of military members and military families signed up in advance through up for their sign to be delivered to honor Veterans. The response was amazing! We met a Purple Heart recipient, Veterans who served in World Wars, Afghanistan, and in many other service capacities to serve our country. We know we can never fully repay or thank our Veterans for their service. However, this small gesture was sincerely appreciated by our recipients. Tears were shed, and stories were shared. We made relationships with Veterans in the community we would have never had the opportunity to cross paths with. Thank you, Mark Miller Subaru, for sponsoring this meaningful project. We hope to continue the tradition each year! The marketing team from Mark Miller Subaru was so nice to create this short video for us. It's an awesome recap of the event. https://www.facebook.com/watch/?v=3394707507315619
---
Stanley's Story - Lindsay O
Sweet Stanley was rescued by Nuzzles and Co. from the Navajo Reservation after he was found injured, limping on his front leg. Stanley was suffering from a suspected gunshot wound, and the wound on his leg was extremely infected. We do not know how long he had been injured for but he was in terrible pain. We rescued Stanley and brought him back to our Rescue Ranch where our veterinarian examined him. Stanley was found to have a complete open fracture of his left front leg, along with a very bad infection. The only course of action to alleviate his pain was to amputate his leg. As our loving veterinary staff prepared Stanley for his amputation, sweet Stanley was very affectionate with them - it seemed he knew they were there to help him. Stanley did well through the procedure and the very next morning was up and walking around, but unfortunately by that evening, Stanley's health declined and he stopped eating. Our veterinarian could tell something was wrong. After some tests were run, he was diagnosed with Parvovirus. Our veterinarian immediately placed Stanley on supportive care and IV medications. We all hoped that he would pull through. After a few days Stanley started to improve, and he started eating again. Stanley was such a fighter - we just knew he would be okay! As the days went by, Stanley got a little better each day and once he was stable, we placed Stanley in a loving foster home to help nurture him back to health. Stanley made a full recovery and came back to the Rescue Ranch just in time for the annual Nuzzles and Co and Subaru Love Pets Fee-Waived Adoption Event with Mark Miller Subaru. Everyone who met Stanley fell absolutely in love with him, and through this event Stanley was adopted into his forever home. Because of the generous support of Mark Miller Subaru and our Love Promise partnership, Nuzzles and Co is able to rescue underdogs like Stanley, nurse them back to health, and find them forever homes. We are so grateful for all of the support that we have received from Mark Miller Subaru in October through October Loves Pet Month, and through the Adoption-A-Day campaign. Nuzzles and Co. received $6200 in financial support from Mark Miller Subaru Midtown and South Towne's Adoption-A-Day campaign and found 62 dogs and cats their forever homes. In addition, during our annual fee waived event with Mark Miller Subaru we were able to find forever homes for 16 pets. Nuzzles and Co. is on track to rescue and find loving homes for over 1600 pets in 2020. This would not be possible without the generous support of Mark Miller Subaru.
---
Recycle Utah South Summit Electronics Collection - Eric M
Recycle Utah hosted a free E-Waste drop off for Summit County residents on October 3rd and was graciously sponsored by Mark Miller Subaru South Towne. One of our primary goals is to keep toxic chemicals and heavy metals out of our environment. Electronics contain materials like mercury, lead and cadmium which end up in the landfill and leach into the ground and into your drinking water. During this event, we had over 100 local residents drop off 2,000 lbs of electronics which were recycled and diverted from our local landfill. Recycle Utah cannot thank Mark Miller enough for their support of this event and through their Love Promise program. It makes a huge impact for us and our community.
---
Mark Miller Subaru Loves Their Employees - AUNNDREA K
In February the cancer came back in Dawn Saak's bones... We were all devastated. Dawn is the type of coworker that's always smiling, joking, showing concern for others, and genuinely building relationships with anyone she comes in contact with. Dawn has been with MMS for 19 years and made a lasting connection with all of her customers. She received the Subaru Summit Peak Performer Award, MMS Employee of year in 2019 and She is everyone's favorite 'Sales Mom' and "What's for lunch?" asker. She started running out of energy and cut down to only 4 days a week until she had to make the hard decision to stop coming in altogether. Due to Covid-19 we were unable to do hugs or have a company BBQ to say goodbye like we normally practice when one of our employees moves on. In order to let us all say goodbye and give Dawn a proper send-off, Mark Miller Subaru made Dawn a personalized 1000-piece puzzle as she is well-known puzzle lover. They took pictures with all the individual departments holding signs we made for Dawn and we then used those pictures to make Dawn her puzzle. They also gave everyone the chance to write a personal letter to Dawn. It meant so much to Dawn and it meant so much to all of us to be able to get that closure and let her know how much we care about her. Thank you, Mark Miller Subaru, for caring about your employees and finding a creative way for us to all come together and say goodbye despite Covid-19.
---
STRONGER TOGETHER - Michael A
Now more than ever, Mark Miller Subaru is committed to helping those who need it most. That's because we're #StrongerTogether.Since the beginning of Covid-19, Mark Miller Subaru and our employees have worked hard to 'Leave Our MARK' by helping the most vulnerable among us. Over the past three months, we've helped dozens of charitable organizations and thousands of people who were impacted by Covid-19 by: Immediately starting an 'Employee Giving' campaign where the Mark Miller Subaru team raised more than $5,000.00 to help those suffering from food insecurity in our community. We were honored to support organizations like the Utah Food Bank and Salt Lake County Aging and Adult Services' #MealsOnWheels Program by making sizeable financial donations. Purchasing and distributing 3,000 KN-95 Face Masks to help keep essential employees safe while they continued to serve others. These masks were donated to organizations like Volunteers of America, Utah whose brave employees continue to support individuals experiencing homelessness along the Wasatch Front.¿ Providing more than 200 days of complimentary rentals for families of the Ronald McDonald House Charities Intermountain Area who were displaced by the virus. While the virus shut down everything around us, it didn't stop families of seriously ill or injured children from needing medical care.¿ Distributing over 7,000 ounces of Hand Sanitizer to charities, customers, and community members to help stop the spread of germs. During a time when sanitizer was hard to find, we were honored to help organizations like The Road Home, Pacific Island Knowledge 2 Action Resources, and the Utah Pride Center continue to serve their charitable mission with this donation. Partnering with ARUP Blood Services to hold two employee blood drives where our team collected enough blood to help 90 people battle Covid-19. Collaborating with Nuzzles & Co. Pet Rescue to donate over 1,000 pounds of pet food to help those in our community who were struggling to feed their furry companions.Mark Miller Subaru is committed to being more than a typical car dealer: we're committed to being a force for good. So have no doubt that when our community starts to hurt, we'll always be there to help. That's the power of the Subaru Love Promise.#LeaveYourMARKSubaru #LovesToCare
---
We Love the Miller Family! - Megan S
During this unprecedented time when everything in the world seems to be falling apart, it's the Miller Family that continues to be the glue that holds everything together. And as employees of Mark Miller Subaru, words cannot truly describe the level of gratitude and love that we have for the Miller family. Not just because we've been lucky enough to keep our jobs, allowing us to support ourselves and our families, but also because we've witnessed the manifestation of their long-term believe that "If you take care of your employees, they'll take care of your customers, and the rest will take care of itself." It was no surprise that after Jeff & Mark put so much effort into taking care of us and guaranteeing our paychecks, many employees started asking how we could show the Miller family our appreciation. We immediately got to work writing personalized thank you cards, but we knew we wanted to say 'thank you' in the Subaru spirit, and in a way that aligns with Mark & Jeff's value system. Because of this, we decided to ask our employees to make a donation in Mark & Jeff's honor to help support those in our community who have been severely impacted by Coronavirus, and our employees delivered in a HUGE way. After a week of collecting 'thank you' letters and donations, we as employees are humbled to share that we raised $5,377.00 worth of cash donations to donate in the Miller family's honor. Our goal was to specifically help those who are experiencing food insecurity during this pandemic, so we distributed the funds as follows: - $1,500.00 to the Utah Food Bank - $1,500.00 to Meals on Wheels in Salt Lake County - $500.00 for Ronald McDonald House's Food Pantry - $500.00 for Volunteers of America's Food Pantry - $500 for Utah Pride Center's Food Pantry - $500 for the Utah AIDS Foundation's Food Pantry - The balance of our donations were used to secure cat and dog food for community members struggling to feed their pets because of their own food insecurities. In conclusion, as employees of Mark Miller Subaru, our hearts are full… they are full of love, gratitude, and a burning passion to continue to work tirelessly on the Miller Family's behalf. In fact, one of our employees from our BDC Department said it best: "I feel like there's no amount of money that's enough to say thank you to them for what they have done for us." Simply put, we love Mark Miller Subaru, and even more, we love the Miller Family.
---
Supporting Meals on Wheels and Pets Plus Programs - Afton J
Salt Lake County Aging & Adult Services' Meals on Wheels program is honored to have received a Love Promise donation from Mark Miller Subaru of $1,500 plus over 300 lbs of pet food, several gallons of hand sanitizer, and 150 N95 face masks for our drivers. The Meals on Wheels program provides hot, nutritious midday meals to homebound older adults in need all over Salt Lake County. The program's dedicated team of drivers along with a small army of volunteers deliver more than 315,000 meals every year to our roughly 2,400 senor clients. Unsurprisingly, the program has seen an increase in need for home delivered meals since coronavirus hit the Salt Lake Valley. Many meal recipients have pets at home. Several years ago, drivers discovered that with limited resources on hand, clients would often share their home delivered meal with their furry companions. That's why Aging & Adult Services partners with Mark Miller Subaru for the Meals on Wheels Pets Plus program. Every year Meals on Wheels holds a pet food drive to gather pet food donations, which are then distributed to clients with pets at home. This helps ensure that both the older adult and their four-legged friends get enough to eat every day. The donation of funds, PPE, and pet food means a lot to Meals on Wheels clients, drivers, and volunteers as Aging & Adult Services continues to provide this and other critical services during COVID-19. Mark Miller Subaru has been an excellent partner over the years and we're grateful to know we can count on their amazing team even in a time of crisis! #SubaruLovesPets #SubaruLovesToCare #SubaruLovesToHelp
---
SUBARU LOVES the Earth + Birds + Learning - Melissa H
Mark Miller Subaru (MMS)'s support of HawkWatch International (HWI) and its mission to protect birds of prey and our shared environment is long-running, including being honored as the MMS 2017 Loves the Earth partner. Specifically, MMS has been a great partner for HWI's American Kestrel Study, a community science project utilizing hundreds of volunteers to monitor nesting Kestrels to understand why populations of this small falcon are declining. Kestrels nest in tree hollows and nest boxes are an important conservation and research tool for this species. Multiple nest box building events (see former Love Promise story) held at MMS engaged dozens of participants and resulted in over 100 new boxes for the study. We installed one of these boxes at Mark Miller Subaru last year (lovingly referred to as Bleu's Nesting Box after their Love Promise Ambassador Suba Bleu Miller), along with a webcam for the public to view the nest box live at any time. We are excited to see the nest box occupied this spring season! Although not occupied by American Kestrels as we had hoped, the European Starlings currently using the box provide important data and engage viewers in the wonder of nature in our own backyards. To celebrate the new occupants of Bleu's Nesting Box, we hosted a free, public webinar on May 1, 2020 for participants to learn about HWI's American Kestrel Study, common backyard birds, and to meet Jack the Merlin, one of HWI's Raptor Ambassadors. Combining the two Love Promise pillars of Subaru Loves the Earth and Subaru Loves Learning, HWI also introduced our new "Backyard Scientist" activity designed to engage kids and families in exploring their own backyards or neighborhood green spaces to document the condition of existing habitats and suggest enhancements that could improve habitat for birds and other wildlife. This project is a guide to help keep youth active and thinking about science and conservation during these "shelter in place" times caused by the coronavirus pandemic. We recorded the webinar for future use in classes as we continue to roll out this project. Our goal is to create a guide that HWI can share online so that any individual or family across the country can participate in the project, or so that other wildlife conservation groups or schools can collaborate with HWI and implement something similar in their communities. We are so thankful for our partnership with Mark Miller Subaru and look forward to continuing our work together to promote wildlife conservation and science education.
---
Service Dogs for Veterans - Jenny C
Just one week after our Share The Love campaign with Subaru, our Mark Miller Subaru Sponsored Service Dogs were recruited. Justy, named after the vintage Subaru, and her sister Daisy, began their adventure with us at just 8 weeks old. The two puppies began basic behavior training with volunteer Puppy Raisers. We saw a glimpse of their potential through their intelligent Border Collie father and social skills from their Labrador mother. True to their breed, they were very eager to please! In the first weeks of training, they impressed even our most skilled and experienced dog trainers with excellent potential in both Psychiatric and Mobility Support. With the help of professional dog trainers, they thrived each week. Their ambition to learn new tasks, paired with a structured environment and plenty of socialization made them a prime example of very happy working dogs. Everywhere their volunteers went, they did too! Including visits to our friends at Mark Miller Subaru. Our team of trainers helped our volunteers to teach these puppies everything from "sit" to important tasks for PTSD Support. Justy is now living her best life with her US Army Veteran, Blaine in Utah. They live with a wonderful family of 7 children on 3 acres of land, surrounded by nature. She goes to work each day with Blaine, plays with the kids, and loves every minute of it. Daisy is enjoying her time with US Air Force Veteran, Lance in California. Daisy always loved to sunbathe, and now she gets to spend her life next to the beach with her loving family and her new best dog friends. We are so happy for these wonderful placements. Thanks to the support of Subaru of America and Mark Miller Subaru, both of these sponsored dogs have been placed with Veterans in need of PTSD support, directly related to their time in combat while serving our country. On average, 22 Veterans die each day by suicide. The average cost of a Service Dog begins at $20,000-$40,000, making these dogs out of reach for most who need them. At The Malinois Foundation, we know Service Dogs save lives! We are so grateful for the contributions made during Share The Love to allow us the opportunity to serve these deserving Veterans with our wonderful Service Dogs. Thank you, Subaru!
---
Eagle Scout Project for Malinous Foundation - Carson B
Hi, my name is Carson Beaslin. My dad, Robert Beaslin, is an employee of Mark Miller Subaru. When I started researching possible Eagle Scout projects, I asked my dad about some of the charities that Mark Miller Subaru supports because I knew they would be good worthwhile charities to support. I chose the Malanois Foundation because it combines two things that I love and respect: Dogs & Veterans. I have a great respect for veterans as both of my grandfathers have served and I'm grateful for all they do for me and our wonderful country. When I first reached out to the foundation, they were excited to hear from me as they needed leashes at the time. I met with the founders of the Malanois Foundation (Kelley Rosequist's parents) and learned about what they do and was so impressed with how much they cared about the quality of the leashes I would be making. They wanted the hardware to be solid – not plated – so the dog handlers wouldn't hurt themselves on sharp plating as the leashes were used. Knowing that we wanted good quality hardware and paracord, I reached out to Mike Aguilar, Marketing Director of Mark Miller Subaru, and he was willing to contribute some hard-earned funds towards my purchase of the supplies. I was so grateful to Mark Miller Subaru and the support they were willing to give me. I started the project by purchasing supplies for one leash and testing my design. The first leash took me over 5 hours to complete! Needless to say, I got much faster at making them along the way! I think m Dad set the record by tying a full leash in 35 minutes! To get help making the leashes, I organized a big event at my church one night, and lots of people from the neighborhood came to help tie leashes. We had around 25-30 people helping all night! Most stayed for at least an hour and some stayed about 4 hours! It was fun to go around helping people learn how to tie the knots correctly and keep everyone moving towards our goal! In the end, we completed 50 leashes! My Mom & I delivered 49 of them to Kelley at the Malanois Foundation and we have saved the last one to present at the Mark Miller Subaru Share the Love VIP kickoff event. I love that we just celebrated Veteran's Day and I can present this leash directly to someone who has done so much for our country. Thank you Mark Miller Subaru and the Malanois Foundation for such a great opportunity! I have earned my Eagle Scout rank because of this project with the help of Mark Miller Subaru's helping me help their charity partner.
---
Making MANY Dogs' Days - Jamie U
Nuzzles & Co. is a nonprofit animal shelter and rescue in Park City, Utah. We have been partnering with Mark Miller Subaru for several years, and they make a huge impact on our lifesaving work. This year for National Make A Dog's Day, we featured a dog named Periwinkle on social media with Mark Miller Subaru. Periwinkle was a senior that came into our care with an injury. For reasons we don't know, this gorgeous Chihuahua had a cracked spine and needed some extra TLC when she arrived. Luckily for her, a loving family saw her during the #NationalMakeaDogsDay coverage with Mark Miller Subaru. They couldn't wait to adopt her once she was ready. She went home the next day! Now, she lives a life of luxury and has completely transformed into an energetic, happy dog.We also received supply donations from Mark Miller Subaru to support dogs like Periwinkle during Make a Dog's Day. And soon after, during Subaru Loves Pets month, we received many much needed supplies and donations collected during Mark Miller Subaru's community collection drive!We're so thankful for all of the ongoing support that Mark Miller Subaru gives to pets in need.
---
Hosting Operation Heroes' Fallen Soldier Memorial - Michael A
The Subaru Share The Love event is a special time to unite as a community in support of something so much bigger than ourselves. That's why Mark Miller Subaru is honored to support Utah's Hometown Heroes for the duration of the campaign. In addition to supporting two causes in our community that offer critical support for our veterans and their families, Mark Miller Subaru is truly humbled to host Operation Heroes' Fallen Soldier Memorial for the first time in the Salt Lake Valley, and for the first time ever in an automotive store. The Operation Hero Memorial consists of 278 boots, each one representing the death of a Utah solider since 9/11. The exhibit is both an emotional and meaningful experience for those who visit and is meant to raise awareness within our community about each of Utah's Fallen Soldiers and the sacrifices these heroes made. Operation Hero is a non-profit organization established by Antoinette Stapley to continue the legacy of her husband, 1SG Tracy Stapley, who passed away on July 3, 2013, in Qatar. In launching the Subaru Share The Love event on an emotional ceremony on November 14th, Jeff Miller (General Manager of Mark Miller Subaru) offered the following message: "... my team and I are humbled to host the Operation Heroes' Fallen Solider Memorial. Freedom isn't free, and this memorial is an emotional reminder of this reality. I personally invite everyone to visit Mark Miller Subaru South Towne during the Subaru Share The Love event, now thru January 2nd, to see this beautiful tribute to those sacrificed everything, including their own life, in service to our country - this place we love so much."
---
Mark Miller Subaru Pet Adoption SUCCESS - Jenny C
Nuzzles & Co. Pet Rescue and Adoption partnered with Mark Miller Subaru, Subaru of America and ASPCA for another successful fee-waived adoption event. Together, we found homes for 37 animals in one day at our local "Park Silly Market" in the heart of Park City, UT. The event's success was geared up early with local media interviews and cross-promotion on social media. The Mark Miller Subaru staff and volunteers always take such good care of us and our animals. They are our first-responders to make sure our cats and dogs have what they need, as well as answer questions with the community about what we do. The day was a little chilly, and a staff member did not hesitate to keep a skinny chihuahua in her sweater to keep it warm. They walked dogs for us, filled up water bowls, cleaned up messes, and socialized with the animals. The Mark Miller Subaru team is a special breed of individuals who care about these animals as much as we do. There was a sense of gratitude at the end of a long day when we left with only empty crates and carriers. It's a wonderful feeling when we all work together to find homes for awesome animals. Thank you Mark Miller Subaru!
---
United Way of Salt Lake Health & Wellness Fair - Megan R
Mark and Kathie Miller are incredible examples of giving back to the community and are one of the reasons that Mark Miller Subaru is so dedicated to the Subaru Love Promise. One special organization that the Miller Family supports is United Way of Salt Lake. United Way has a mission to change the world by creating partnerships that bring people and organizations together, through what is known as "Collective Impact," to give everyone in our community the chance to live their best life. Mark and Kathie have served on the United Way board as cornerstone partners for the past 30 years and employees of Mark Miller Subaru have done their part by participating in volunteer work and making a donation out of each paycheck. In fact, just last year a total of 230 Mark Miller Subaru employees, representing 97% of our total workforce, donated a combined $38,000 to support United Way's mission! This exceptional level of employee participation highlights our collective dedication to the Love Promise. That's because employees of Mark Miller Subaru understand that the Love Promise is our lifeblood. The Love Promise isn't just something we do.. it's who we are! Supporting United Way is a no-brainer. They continue to have a positive impact on our local community, and we're always looking for additional ways to support them. That's why this year, as part of our United Way employee giving campaign, we decided to create our 1st Annual Mark Miller Subaru Health & Wellness Fair. The goal of this fair was to provide our employees with information about all the resources we have available to them (24/7 employee assistance program, gym membership discount, employee massages, etc.) but we also combined this event with our United Way campaign to raise funds for their organization. By the end of the day, we were able to raise an additional $1,400 (!) for United Way, in addition to educating our staff on the health & wellness resources available to them. While we definitely succeeded in those two goals, we never expected the effect it would have on our employee's morale. The outcome of this initiative reminded all of us at Mark Miller Subaru of Mark's most repeated and memorable line: "…if we take care of our employees, they'll take care of our customers and our community, and the rest will take care of itself." Mark Miller Subaru's Wellness Fair was the literal manifestation of Mark's most common sentiment. Not only did we band together to raise money for charity, we created an opportunity for employees to feel the breadth of the Love Promise... and it was a powerful experience! Building a culture of love and support for our team resonates with and radiates to those we serve, both our customers and our charity partners. This, after all, is the power of the Subaru Love Promise.
---
Giving Utah's youth a chance thru 8th Grade Math - Michael A
Mark Miller Subaru's caring leader, steward, and owner, Mark Miller himself, alongside members of the Mark Miller Subaru team, have had the honor of tutoring 8th Grade Students at Kearns Jr. High school, students who are among the most vulnerable in our community. Kearns Jr. High is located in Utah's "West Side" and is home to some of the most diverse and financially disadvantaged families in Utah. Family sizes are larger, household incomes are smaller (requiring parents to work more than one job), and access to illegal substances continues to be a growing issue. Simply put, the cards are stacked against these bright, capable, and talented youth… and they need our help! Mark Miller Subaru united to support these youth because of these three known facts: 1) Based on low test performance, Kearns Jr. High has an academic rating significantly lower than the average for Utah middle schools and is ranked 128th out of 138 on the list of best public middle schools in Utah. 2) 71% of students in 8th Grade at Kearns Jr High are more than two grade levels behind, with a significant number of students testing at the 2nd grade level. 3) Grade Level Competency for 8th Grade Math is an indicator of future success. In fact, students who are at (or above) grade-level at the completion of their 8th grade year are ~67% more likely to graduate High School! Mark Miller Subaru is home to some incredibly talented individuals, so we knew we could extend a helping hand! So, under the leadership of Mark Miller, over 20 employees of Mark Miller Subaru made a commitment in the fall of 2018 to step-up, step-in, and help make a difference. Tutors spend their mornings at Kearns Jr. High helping students understand basic concepts of elementary math. In fact, and speaking from personal experience, I was recently helping a young girl named Amelia count from 9 to 15. Sadly, Amelia's story isn't the exception. it's the standard. These 8th grade students have reached a point in their educational career where they are meant (and required) to understand algebra, the Pythagorean theorem, and other advanced math theory, but they cannot even do simple addition! This is why so many students, especially students in communities like Kearns, fall through the cracks and do not graduate. Sadly, the education system has failed these youth. But when all seems gloom, there is so much for Mark Miller Subaru to be proud of! We're rapidly approaching our one-year anniversary of this initiative, and are proud to share the following results: 1. Mark Miller Subaru employees will have volunteered a total of 36 weeks, which represents more than 72 individual days! 2. The 20 Mark Miller Subaru employees have donated a combined 720 hours tutoring students in grade-level math! 3. By the end of this school year, Mark Miller Subaru is estimating that students will volunteer 1-2 times each week, before their workday, to help tutor students by 'meeting them where they are at' in math, with a goal to get them to 8th Grade competency. Mark Miller and Mark Miller Subaru are working together to make a difference in the lives of these students… not because it's good for business, but because it's the right thing to do. As an employee of Mark's, I am continually inspired by his generosity of time, and the financial resources he's invested in helping make our world a better place. Watching him speak from his heart about why leaving the world better than he found it (which is usually accompanied by a quivering voice and a water-filled eye), I'm continually reminded why I'm a proud part of the Mark Miller Subaru team.
---
Spreading Love & Hope to Cancer Patients - Stacie K
It was a magical afternoon on July 11th when the team at Mark Miller Subaru and The Leukemia & Lymphoma Society's Utah Chapter staff and members of the Board of Trustees joined forces to deliver blankets and notes of encouragement to patients at Primary Children's Hospital and the Ronald McDonald House in Salt Lake City, Utah. The Ronald McDonald family room at Primary Children's is a special, loving place. It's raw with emotions and you can tell how much it means for these families to have a safe, calm place to regroup and refresh. As we handed out blankets we had several people tear up as they graciously accepted this small gift of comfort and love. "It was impossible to not be touched by the families we got to meet. They were open, loving, kind and above all else resilient. This experience has humbled me and gave me a greater perspective on what truly matters in life" said Aunndrea Kunz, Marketing Coordinator at Mark Miller Subaru. After spending our time at Primary Children's Hospital, the teams gathered to warm the residents of the Ronald McDonald House with blankets, support, and love. Courtesy of Mark Miller Subaru, The Great Room in the Ronald McDonald House was magically converted into a secret layer exclusively for Superhero residents and their families. Ice cream, face painting, and superhero costumes for all to wear greeted the residents as they trickled in from their private rooms. Whatever hardships and challenges these families were faced with that day visibly melted away quicker than the ice cream in their hands as kids and adults alike raced to join the fun. "The joy was infectious!" said Ms. Kunz. "It was one of the most powerful things I have seen in my life. Watching families go through so much but still find a reason to smile and play together. It was strength like I've never seen it before and it was beautiful." A young woman came up to the Mark Miller Subaru staff and thanked them for supporting people who are fighting leukemia. Her father had been through chemo several times and had decided after it came back again to stop all treatment so he could just live his life. "They almost lost him to a common cold the week before our event" shared Ms. Kunz. "I had to excuse myself to the bathroom to clean up my face after hearing this heartbreaking story." "My name is Kenzyn and I have monsters on my feet, but they're nice so you don't have to worry." These were the first words that 6 year old, vibrant burst of energy, Kenzyn, proudly shared with the Mark Miller Subaru and LLS teams as she hugged her new blanket like an old friend. Kenzyn and her family are from Montana, but Primary Children's Hospital in Salt Lake City is the closest facility for her very special needs. Kenzyn's dad pushed a stroller that held her baby brother who has only known his sister's places of treatment in Salt Lake City as home. Her mother cautiously guarded her nasal feeding tube as Kenzyn twirled around to show one of LLS' board members her furry monster slippers and her star patterned summer dress with a hole cut out on the chest for her treatment port. Kenzyn lost her hair from 10 rounds of chemotherapy or maybe perhaps it was the result of one of her four brain surgeries or one of her several rounds of radiation therapy. Regardless of why or how, her beautiful head is evidence that she has lived more life at age six than most do by age 60, but her eyes sparkled with a sweet and curious innocence that can only be found in children. The LLS Board Member enthusiastically asked, "Kenzyn, would you like to have your face painted like a fairy princess today?" "No way!" She gave him an incredulous look as if she were offended at the idea. "How about a sparkly unicorn?" This time, she didn't say anything to acknowledge such a horrible thought. She didn't need to, her raised eyebrow and smirk said it all. "You can pretend to be anybody or anything today! Who would you like to be, Kenzyn?" Without hesitation, she excitedly shouted, "BATMAN!" And that day, thanks to Mark Miller Subaru, the amazing Kenzyn in her star dress and furry monster slippers, put on a cape and transformed into the world's bravest Batman. The afternoon made an impact on all that were involved. LLS is truly grateful for the incredible partnership with Mark Miller Subaru and the feeling is mutual as Ms. Kunz shared, "thank you LLS for all that you do, your fight is a noble one and I was honored to stand by your side."
---
Mark Miller Subaru #BacksTheBlue - Michael A
Salt Lake County's Police Force has been tested with extraordinarily challenging and unfortunate situations in the recent past. In fact, South Salt Lake's LEO community lost its first peacekeeper, Officer David Romrell, towards the end of 2018. The loss of Officer Romrell sent shockwaves thru the County and, more intimately, the small community of South Salt Lake, the home of Mark Miller Subaru Midtown, a City that Officer Romrell worked tirelessly to keep safe. Another tragedy struck Salt Lake on the morning of April 8, 2019. Members of the Mark Miller Subaru team were working when all of a sudden they could hear gunshots and sirens, along with the aftermath of a high-speed and dangerous police pursuit that lasted roughly 30 full City blocks. This pursuit ended near Mark Miller Subaru Midtown. Both of these events reminded all of us at Mark Miller Subaru that we are surrounded by so many incredible and brave individuals who, without hesitation, step into harm's way to ensure that our neighborhoods are safe. In the case of Officer Romrell, he gave-up everything, including his wife and new-born baby, in service to our community. Members of the Mark Miller Subaru team know that there is real and unmatched power in the Subaru Love Promise. It's thru the Love Promise that we can lift those around us, especially those individuals in their greatest time of need. That's why, following the passing of Officer Romrell, every manager on the Mark Miller Subaru team donated a portion of their Holiday paychecks to gift to Officer Romrell's family. This donation was presented to Officer Romrell's family, in honor of the Miller Family, with a note that read: "Officer David Romrell was an American Hero who dedicated his life to selflessly protect the lives of others. First as a Marine who valiantly served numerous deployments in Afghanistan to his passionate service, to South Salt Lake City as a Law Enforcement Officer. Our hearts are broken to learn of his tragic death. Mark Miller Subaru stands with Officer Romrell's wife, his 4-month-old baby, our Law Enforcement Community, and the City of South Salt Lake in this period of mourning." Members of the Mark Miller Subaru team banded together again following the April 9th tragedy that ended roughly a block away from the Midtown store. If it weren't for the swift, coordinated, and effective actions, taken by our local police force, who knows what could have happened on the footsteps of our store. So, in an effort to say THANK YOU to those brave men and women who truly stepped into harm's way to keep us safe, we bought and delivered 180 donuts to the officers at each Salt Lake County police department that was involved in the high-speed, and incredibly dangerous, police chase. While Police Officers are usually overworked, underpaid, and under-appreciated, they continue to proudly wear their uniform and badge each day in the name of something bigger than themselves... they do it in the name of peace. Members of the Mark Miller Subaru team would be remiss without recognizing their courage, dedication, and sacrifice. These selfless Law Enforcement Officers are our heroes, and we are so grateful to them for their service! Additional information regarding both incidents: Officer Romrell: https://kutv.com/news/local/ssl-police-remember-fallen-officer-who-was-hit-by-car-during-burglaryPolice Pursuit: https://kutv.com/news/local/shots-fired-at-matheson-courthouse-police-responding
---
Some Toast for our Tuesday - Courtnie J
Suba Bleu visited my classroom to donate some much-needed items for my monthly Toast Tuesday celebrations. Suba Bleu brought peanut butter, jelly, bread and milk for my students to enjoy. My students work hard every day and many times they may skip breakfast or even lunch for various reasons. I like to provide them with an opportunity to have something healthy and yummy to eat when they come to class. Thanks to Suba Blue Miller we had an amazing toast Tuesday and my students were all smiles! - Mrs. Jensen
---
Suba Bleu Brings a Printer to 4th Grade - Liz S
Last week Suba Bleu stopped by my classroom to deliver a much-needed printer with the ability to make copies. Our classroom is portable and is not connected to the school. Students frequently needed copies that I couldn't make because I can't leave them alone in the classroom while I go into the building to copy. I set the printer up that day and it has already been used so much. Just today it helped three students keep up in class when I was able to immediately copy what they had lost. My class loved having Suba Bleu in our classroom. I think they spent almost an hour loving him and they want to go visit him at work. They typically dislike Monday because it is their only day without a special class like art or PE, but they deemed this particular Monday the best day of the week. Thank you so much for supporting education Mark Miller and Suba Bleu. You made a difference in my classroom! Liz Sagers
---
1st grade loves Subaru & Suba Bleu - Mykel J
Suba Bleu visited our first-grade class today to drop off some donations. We are so grateful for the donations of some of the necessities in our classroom (paper, tissues, markers & crayons, and Clorox wipes). We absolutely loved having Bleu visit and letting us give him some love! We appreciate that you chose our class to drop donations by. Being an at-risk school, some things are hard to come by— so donations really do make the difference in our classroom and community. Thanks again for the visit, Bleu! -Ms. Johnson's first grade
---
A Community Garden can grow more than just veggies - Jen H
An otherwise unremarkable and neglected urban lot sat vacant for many years in the heart of South Salt Lake, a community that which sadly claims the highest crime rate, and with a long history of industrial development, equally lacks green, beautiful gathering spaces. Believing in the vision to grow a better, greener community, Mark Miller Subaru was the first to jump in and donate to a new nonprofit community garden, surplus produce swap and future farmers' market project, the SLC Veggie Swap. Their contribution made it possible to create improvements on a dilapidated garden fence, which is now both functional and beautiful, stepping up the garden's curb appeal and getting praise with its high visibility off of Main Street. With still much to do, Mark Miller Subaru also assisted the SLC Veggie Swap an invitation to participate in the Suba Bleu Scramble Golf Tournament and interface with many community businesses and bringing new and valuable connections. The SLC Veggie Swap is immensely grateful to Mark Miller Subaru for their high ideals and vision of building a stronger community, our first official sponsor, to share our love of growing and enhance our community, through healthy food, and creating authentic relationships with each other through sustainable living practices. We love the entire team at Mark Miller Subaru, and especially the endlessly enthusiastic, dear Suba Bleu!
---
MMS Opens Children's 'Express Service Exhibit' - Michael A
Subaru's commitment to "Love Learning" means more than just giving money away... It means creating meaningful experiences that could change the course of a person's life for the better! Mark Miller Subaru and Discovery Gateway Children's Museum are doing just that with the addition of the "Mark Miller Subaru Express Service Exhibit" now open in Salt Lake City, Utah. Our collective goal is to potentially change the 'life trajectory' of the nearly 250,000 children who visit Discovery Gateway Children's Museum each year. "As vehicles become more technically advanced, the need for highly skilled technicians continues to increase. The Bureau of Labor Statistics estimates the number of qualified technicians needed nationwide will rise to around 780,000 by the year 2024, representing a 5% YOY increase in demand" (Subaru University). With this knowledge, Mark Miller Subaru approached Discovery Gateway Children's Museum with an idea: 'could we create an experience inside of the Museum, and under the banner of Subaru Loves Learning, that offered young children an opportunity to explore and learn about automotive science?' Without hesitation, Discovery Gateway said yes! After all, their mission is to inspire children of all ages and abilities to imagine, discover, and connect with their world to make a difference. By providing youth with unique learning experiences in their most formative years, experiences that inspire curiosity and passion, we can effectively address the growing needs of future society. The new Mark Miller Subaru Express Service exhibit at Discovery Gateway was designed to accomplish just that! And on August 31, 2018, after nearly six months of rigorous planning and construction, the Mark Miller Subaru Express Service Exhibit became a reality! This new, hands-on, and innovative space for learning features a child-sized, but still larger-than-life, 2019 Subaru Ascent! Children now have the opportunity to work under the hood on the Ascent's Boxer Engine, change the oil, tighten lug nuts on all four tires, fill the gas tank, and other tasks that help teach kids the science that drives the Subaru Ascent. After getting into their uniform, young visitors' step into the role of a Subaru Technician and begin completing important tasks that help define the profession. Mark Miller Subaru and Discovery Gateway believe that it is important for our youth to have these sorts of hands-on learning experiences. It will be these experiences that help shape a child's future and, subsequently, the future of Subaru. Highlight and copy this link into a new tab to see how we keep our Promise. https://www.youtube.com/watch?v=CsyZTsNTyLs&feature=youtu.be
---
A Partner In Support- Mark Miller Donates Blankets - Emily M
On June 24th, Suba Bleu and other Mark Miller South Towne employees joined The Leukemia & Lymphoma Society outside Utah Cancer Specialist Clinic at Jordan Valley Medical Center to delivery messages of hope and warm blankets to local cancer patients. While Bleu was not able to come inside, the other Mark Miller employees were able to hand deliver blankets to patients in the clinic receiving infusion treatment. As Mark Miller employees delivered blankets they were struck by how important it was to the patients in the clinic to have support during their journey. One patient, Kalolaine, had family members all the way from New Zealand there to support her during her treatment including Moala Hoponoa who remarked, "It takes a village to cure cancer and we are an important part of Kalolaine's village. We are here for her!" Megan of Mark Miller Subaru commented, "I feel so lucky to be a part of these patients' community and be able to support them with a small gift like a blanket." Barbara, another patient receiving treatment, did not have her support team present during her treatment. "My granddaughter is up at Primary Children's Hospital receiving her last round of Chemo for her leukemia." Barbara said, "We were diagnosed with cancer just weeks apart from each other and now we support each other through our treatment." Because her granddaughter was receiving her last round of chemo that day, Barbara was at her infusion appointment alone. She was so grateful to receive a blanket and message of love from Mark Miller that day and know that she is never truly alone on her journey. Tuesday's delivery drove home the message that feeling supported is so important to cancer patients. Mark Miller Subaru is such a great support to the family and friends around them. These blankets show more than just a bit a warmth, they show compassion and care for the community.
---
Thank you is not enough! - Chereney K
I want to share my gratitude to not only Subaru, but to the amazing staff and product specialist. On Dec 29 I took my 2015 Crosstrek in for service. I decided to get the free trade in evaluation. It came back very positive for me, and I decided to take a look at a newer Crosstrek. In July of 2017, I was rear ended by a distracted driver going very fast while I was at a complete stop. The driver's vehicle that hit me was totaled, and I came out with rear end damage, but my Subaru held up well. Unfortunately, the collision caused a concussion and whiplash, I now have a brain injury that has shut down my vestibular system. There are many things that I struggle with thanks to that and my product specialist and I discussed them while I was there looking. One of the biggest issues for me, is that I can no longer drive in the dark, as I lose all sense of awareness around me. That is just one of many...My product specialist, Kevin Edwards, introduced me to the 2018 Crosstrek limited. If ever there were a car out there that could assist me in so many ways, this was it! We talked about the amazing new features with the Eye Sight, blind spot assist and all of the other incredible things. I decided this was absolutely the car for me and would be a great blessing to aid me where I struggle. As the evening wore on and I went through the process of purchasing my vehicle, it started to get dark. I became concerned, as did Kevin. He knew I would not be safe out on the road going home. By the time everything was finished, it was complete darkness and I was heavily concerned, but knew that I would have to attempt to drive home. Kevin stepped in and told me that it wasn't safe for me to do so, that my safety was more important than a vehicle sale, and that he would get me home. I told him I would be okay and that wasn't necessary, but he wasn't going to let me out on the road into the dark.This man, an angel, drove me home in my new car 40 miles away. I arrived safely without fear thanks to him. I CANNOT express enough how grateful I am for him, he went above and beyond what I would have ever expected. His care and concern meant the world to me and kept me safe. Since purchasing my first Subaru in 2015, I have become a loyal fan. From the service, the vehicle itself, and the people that I have worked with. I know that had I been in another vehicle in my accident, the outcome would have been far worse. THANK YOU for the amazing products that you put out there, for the new safety features that will allow me to have a peace of mind as I struggle with my brain injury, and for the wonderful people that work for your company. Kevin Edwards and the Mark Miller Subaru South Towne crew will always hold a special place in my heart! Sincerely, Chereney Knupp
---
Building boxes and biologists… - Kirsten E
Each spring, HawkWatch International (HWI) volunteers monitor nest boxes placed across the Wasatch Front in Utah to help us learn more about the declining populations of American Kestrels. As part of our research, we partnered with Mark Miller Subaru to host a family-friendly event to build nest boxes to be used in the study. More than 80 people came to the dealership, helping us build 32 boxes that will be used in the spring of 2018. Even better, many of these individuals were children and young adults—our next generation of biologists and conservationists. Pictured here is Greysen Gill, one of HWI's youngest volunteers. Despite the fact that Greysen is too young to work with our "raptor ambassadors" himself, he has shown a commitment to raptor conservation, participating in our work in any way he can.Typically, Greysen works with his father, Roy, to provide raptor education programs in the community, but during this event, that meant he built a few nest boxes to be used in our research. Thank you, Mark Miller Subaru, for helping us build the boxes and biologists of tomorrow!
---
Community United in Art - Aimee D
The love of art brings us together. Whether we make it, study it, or simply experience it, art is something we can all gather around and enjoy. Through the support of companies like Mark Miller Subaru, the Utah Arts Festival continues to be a place where art comes to life and more than 80,000 community members from all walks of life come together. Mark Miller Subaru shares our vision and believes in the power of our partnership to positively impact the community. They are committed to developing connections that go beyond a simple transaction at their dealership, and rather extend the good-will and to the community at-large. Mark Miller Subaru Midtown has created a legacy of involvement and service to the community that is unrivaled among local businesses and the Utah Arts Festival is honored to be among the many amazing organizations they support.
---
Shine a Beacon of Hope to our Community. - michael S
The American Red Cross would like to thank Mark Miller Subaru for a Partnership that has not only supported lifesaving disaster relief but also transforms the lives of Veterans and their families.Humanity, one of seven principles we follow, is something that ties the Love Promise Campaign and the American Red Cross together.The Red Cross is proud to support the men and women of the United States Armed Forces and Veterans through our Services to the Armed Forces Program.Mark Miller Subaru's generous $10,000 donation has helped families reach their loved ones during times of emergency, given comfort kits to members that are deploying, and help with important reintegration workshops for when our troops come home.In Utah, we have been able to help veterans with financial management training, connecting them with important services with community partners, and with support from the VA. Mark Miller Subaru has also been instrumental in helping families in our community that have suffered the loss from home fire. In order for the Red Cross to help these people in need, we depend on strong amazing partners, like Mark Miller Subaru, to help with funding so we can comfort families that need support Thank you Mark Miller Subaru for your ongoing support of the American Red Cross.t's a great partnership and testament to a company that truly cares about giving back to the community they serve honoring a promise to turn compassion into action.It's a Love Promise that endures year after year.
---
The Love Promise Goes the Distance:85 lives saved! - Kathleen T
On Wednesday, May 31st, Mark Miller Subaru joined members of the Navajo Nation and Nuzzles & Co. Pet Rescue and Adoption in transporting 85 homeless animals from the Navajo Reservation in Kayenta, Arizona to Park City, Utah to be adopted into forever families. The Kayenta Reservation is home to roughly 250,000 homeless pets who roam freely in search of food & shelter. These dogs and cats have lived their lives on the streets, in snowbanks and behind dumpsters. Members of the Navajo Nation work hard to support these animals by graciously giving their time, talent, and resources. In addition to caring for these delicate animals, members of the Navajo Nation welcome community members from Nuzzles & Co. and their partners to help identify new homes for these animals. With their support, and incredible help from Mark Miller Subaru, we've given 85 animals a new shot at life. Bringing these cats and dogs back to Park City, Utah is only the first step in their journey. Nuzzles & Co. works diligently to rehabilitate these animals by providing them with 24-hour medical care, food, water, & love. When they're ready, these animals will finally find a place to call home. A real home. In fact, Mark Miller Subaru hosted 10 of the puppies at their retail location & is excited to announce that ALL 10 were adopted! When Mark Miller Subaru says they "Love Pets," they don't just say it, they show it. Nuzzles & Co., with Subaru's help, is truly a place #WhereLoveWins
---
Building a Brighter Future for our Youth - Sarah C
As we continue to cherish the authentic relationship that has developed with the Mark Miller Subaru team, Volunteers of America, Utah is thrilled to be one of the organizations involved in the 2017 Love Promise partnership program. VOAUT will use proceeds from "Do Good Feel Good," to provide direct client services to the over 800 homeless youth expected to need help and shelter at the Youth Resource Center. Mark Miller Subaru has been an invaluable resource to VOAUT in creating a safe space for our youth. By teaming up with VOAUT, Mark Miller Subaru continues to serve the community by assisting VOAUT in fulfilling our mission of supplying stable housing assistance, providing regular meals, continuing education, teaching work skills, arranging help with legal issues, and treating mental illness. Through your generosity, we can work together to build a brighter future for the youth of Salt Lake City!
---
A Dog To Save A Life. - Kelley R
At the Malinois Foundation we are so blessed to be able to provide service animals to our Veterans in need. This is the story of one such Veteran we are currently trying to help. "I deployed to Iraq in 2007 & worked in a field hospital. Seeing the things we did in the hospital were ugly in more ways than can be explained. As I returned, it was a battle to return to civilian life. Bouncing from job to job, town to town, I never had a purpose or a plan. At 35 years old, I finally decided to go to school. I am half way through my associates degree. Even in a class room full of students, I still feel alone, depressed & secluded. I try to stay at the school late into the evening.I hate the loneliness I feel. Loneliness seems to be my only companion. I hate being alone. One of the other students has a service dog to aid him. He explained to me the comfort the dog brings him & how it helps keep him calm. The dog keeps him centered. It occurred to me that's what I need in my life. A service dog to keep me calm, centered, & most of all, away from the suicidal thoughts that join me late at night. I want to be happy; I want to have the same companionship that was in the Army; I want peace. I struggle with school, but the only thing that keeps me going is the bigger long term picture. For me, that is not graduating, but staying alive and not succumbing to the demons that plague me. I want the love of a companion. The everlasting love that can come from a dog. And also a best friend."
---
A Family Story - Stephanie S
Ronald McDonald House Charities of the Intermountain Area knows all about how important it is to share the love, and Mark Miller Subaru has proven time and again that they do, too. Based in Salt Lake City, Utah, Mark Miller Subaru has a long history of community involvement and partnership with causes that make a difference in the world. In 2016 they joined again with one of their favorite local Charities (that's us!) and made a huge push to raise funds for the House that helps keep families close while children are undergoing medical treatment away from home. MM Subaru's 'Share the Love' event not only raised significant funds for families in need, it also raised awareness about RMHC's mission to support families with a seriously ill or injured child. And as an added bonus, they're as dedicated to their customers as RMH is to their guest families! We're delighted to partner with Mark Miller Subaru, and are so grateful for all the love they're willing to share!
---
Game Ball to Mark Miller Subaru - Angelina K
Thanks to Mark Miller Subaru and their family. They have embraced what it means to be part of a community. It's not just about donations but about being involved in the community, caring about the community and sharing with the community. Mark Miller Subaru teamed up with me, Thurl Bailey, Big T, (NBA retiree, played for the Utah JAZZ) and my foundation, BigTlc, we hosted basketball clinics for the month of September for some very deserving, and underserved children, that would have never had the chance to learn skills and leadership from a professional. The small clinics were amazing and inspiring to give these kids a chance to smile and play. Not only did Mark Miller Subaru provide a place to host the clinics, but each child received a t-shirt, water bottle & basketball. As in the photo, we all need a little lift now and then to make that slam dunk. And that's what Mark Miller family has done, lifted us so we can lift others. We also feel blessed and grateful for an amazing donation from Mark Miller Subaru to our foundation, Big Tlc, that we can continue to host not just basketball camps but sports camps for well-deserved and underserved children. They will learn life skills at these camps in fellowship, sportsmanship and leadership. Part of these camps will include their parents, as to learn side by side with them what means to just be a good person and good to one another. Well done Mark Miller Subaru family we want to give you the game ball!! Much love, Thurl Bailey
---
Creating the "Imagination Playground" - Joelle K
Thanks to the 2015 Share the Love event, Mark Miller Subaru supported The Children's Center in Salt Lake City, Utah in the renovation of our Imagination Playground. Not only did Mark Miller Subaru help us raise over $34,000 for the playground, the staff at the dealership also volunteered time and assisted us in removing the existing equipment and installing the new equipment. The dollars raised and the manual help were instrumental in making this project possible. Perhaps viewed as "just a playground" it is important to realize that our new Imagination Playground is so much more than that. For many of our children (ages 0-6) served at The Children's Center, some form of trauma has been a central part of their very young lives. As a result, these young children have lost the ability to play and use their imagination in a typical and important way. The creation of our Imagination Playground has allowed our children to once again experience play and regain parts of their childhood that were perhaps lost. We are so grateful to Mark Miller Subaru and Subaru of America for their ongoing support of local communities and national organizations who play a critical role in reaching those who need it most. The video shot by Mark Miller Subaru illustrates beautifully the incredible joy experienced by our children as a result of this support. Thank you!!
---
Salt Lake AIDS Walk 2016 - Virginia M
The Utah AIDS Foundation puts on the Salt Lake AIDS Walk every year. In recent years fundraising and participation have declined. However, this year, with the help of Mark Miller Subaru South Towne, we nearly doubled our participants and raised over $62,000. Overall the event was a huge success. Not only did Mark Miller Subaru South Towne make a monetary donation, they also dropped off t-shirts which turned out to be incredibly helpful because we were not expecting so many participants and we ran out of t-shirts! Subaru saved the day! We are so grateful to have them as a community partner and sponsor.
---
Mark Miller Subaru's #leaveyourMARK Campaign - Michael A
There are few experiences in life that bring people of all ages, sex and gender identities, sexual orientations, religions, races, color, and abilities. Mark Miller Subaru is proud to have created an experience this past summer which brought more than 100,000 people of all diverse backgrounds together through our #leaveyourMARK initiative. Over the past three months, Mark Miller Subaru "took to the streets" & participated in roughly 25 days of local events where we proudly invited people - ALL people - to #leavetheirMARK on a specially wrapped 2016 Subaru Outback. Our eagar participants left notes of love, encouragement, and oftentimes left silly cartoons as a way to express their unique personalities & passions. From messages proclaiming "Love Mother Earth" to a fun-loving dinosaur roaming a forrest, these notes and drawings were daily affirmations that good exists in our world. Most importantly, though, ALL people had a chance to #leavetheirMARK on this special Subaru which provided them an empowering sense of connectivity to one-another. It was moving beyond explanation watching a wheel-chair-bound blind man color next to an aging woman who, herself, stood next to a five-year-old black child. This is proof that, while people may be different, diversity is beautiful.. as beautiful as the work of art shown in our video. Diversity is love, and 'Love is what makes a Subaru, a Subaru.' View our high quality video here: https://animoto.com/play/84iYLCJtib6mTbuyDgLmxg
---
Mark Miller Subaru Loves Monarch Butterflies - Adia W
The Butterfly Heroes are at Mark Miller Subaru! The beloved and beautiful Monarch butterfly is a familiar favorite among children and adults alike! Sadly, the decline in milkweed plants that are the only natural home for Monarch larvae has caused the Monarch population to plummet by over 90 percent in recent years. To help raise awareness for this issue, Mark Miller Subaru has partnered with the National Wildlife Federation for the Butterfly Heroes program as part of our Subaru Loves the Earth initiative during the month of April. Do you love butterflies as much as we do? Would you like to learn more about how you can join us in our effort? Stop by either or Midtown or South Towne location to get information on the Butterfly Heroes program, pick up a pack of seeds to start your own butterfly habitat, and help save these beautiful creatures.
---
Fourth Street Clinic - Winter Warmth Drive - Laurel I
At Mark Miller Subaru we teamed up with our Home Town charity, Fourth Street Clinic, to conquer homelessness here in Salt Lake City. So we loaded up a Forester with blankets, jackets, gloves and more to keep them warm!
---
Howl-O-Ween Pet Chipping at Mark Miller Subaru - Heidi M
Mark Miller Subaru loves pets. We truly do. Is there anything better than a tail wagging or a quiet purring as your walk through the door? Many owners gathered at both our locations to keep their pets safe with a microchip. Banfield Pet Hospital was amazing and so were our friends over at Humane Society of Utah. Over 200 pets are now safe!
---
Black Diamond Fundraising Party - Paul D
We were proud to be apart of the 2015 Fall Fundraiser Party in its 22nd year. This is the largest fundraiser of the year for the Utah Avalanche Center and 90% of the event costs are donated, so nearly all of what participants spend for an evening of food, drink, prize drawing, socializing, music, and great auction items goes directly to paying for the avalanche advisories and education that winter back-country users use all winter to have fun and stay safe.
---
20th Annual Charity Golf Tournament - Heidi M
A beautiful day greeted many golfers and supporters on the morning of the 20th annual Mark Miller Subaru Charity Golf Tournament. All proceeds benefiting the Humane Society of Utah and the Children's Center. Over $4,500 was donated to both charities. The donations will provide many amenities to beloved pets and resources to children and their families!
---
Urban Arts Festival 2015 - Urban A
Mark Miller Subaru was proud to sponsor the Urban Arts Festival. We loved the creativity that we saw, from all types of artists. Graffiti Murals littered the area bringing a great artistic vibe to the Gateway Mall. Tons of fantastic local rappers gave us real, local jams and helped us dance our way through the day.
---
We are what we leave behind - Solar Documentary - Nikki A
"We've got to be environmental stewards. We've got to protect what we have so it's there in the future for your kids and our future grandkids to enjoy" - Jeff Miller At Mark Miller Subaru we believe who we are is what we leave behind. We need to protect and preserve the world we live in. Subaru is a truly different type of car company and same goes for our customers that love the outdoors and adventure. That's why we went solar, because it's the right thing to do. Company: Hunt Electric, Salt Lake City UT Module Count: 684 Panels Electricity Generated: 218 KW Highlight and right click the following link to view our Love Promise in action, https://www.youtube.com/embed/TdMf274U0BU
---
Pride Is...Mark Miller Subaru - Utah Pride F
Since 2010 we have been a very proud sponsor and supporter of the Utah Pride Festival. This year was the biggest and best yet as the LGBT community gathered in downtown Salt Lake City. We featured a very special piece at our booth in which people could write what "Pride Is" to them on the official Subaru Outback. Mark Miller Subaru plans on supporting for years to come.
---
Cleaning up the Jordan River - Jen Parsons S
On May 14th we had the pleasure of working with a close partner of ours, TreeUtah, to clean up the Jordan River. The Jordan River extends throughout the Salt Lake Valley and is home to many animals and has a great paved bike path. Many use this trail to remain active, relax and picnic with their families.
---
Mark Miller Subaru Keeps Utah Green - All Green E
Subaru of America is truly leading the way for keeping our earth clean and green for many generations to come. During the Subaru Loves The Earth campaign they teamed up with All Green Electronics Recycling for a massive event. Mark Miller Subaru was proud to back that and gathered our own electronics in the showroom. On top of this effort as a dealership we planted another 2,000 trees with TreeUtah to support our own green health in Utah.
---
Do Good Feel Good Campaign - Paul D
Cody, Chris, & Madison have been super supportive of the Utah Avalanche Center and our mission to keep people on top of the Greatest Snow on Earth. They have attended and supported several of our events and made a major donation, all to support the community and a cause they care about. Look at all they are doing for the community and the smart choices they are making to maximize their environmental responsibility - these guys really care about doing well by doing good and have been great to work with. I wish other companies would all be as great to work with.
---
Mark Miller Subaru and CAWS, Saving Lives - Katy S
Partnering with Mark Miller Subaru for the Do Good Feel Good Event 2015 was an absolute pleasure! Mark Miller helped to raise $13,353.75 for CAWS during this event. This donation will help CAWS save the lives of hundreds of kittens during this summer. We are so grateful and proud to have partnered with Mark Miller. It is so wonderful to know that there are businesses working so hard to support the organizations in the community that they serve. Thank you Mark Miller Subaru!!!
---
Promoting a clean and healthy environment! - Sophia N
HEAL Utah has truly appreciated Mark Miller Subaru's commitment to improving our environment-- whether through adding solar panels to their dealership, planting trees, or partnering with local non-profits like HEAL to make Utah a better place to live. Mark Miller Subaru truly leads by example in everything they do-- and we appreciate the very generous ways they've supported HEAL's mission over the years to promote renewable energy, clean up Utah's air, and protect public health from nuclear, toxic, and dirty energy threats. Finally, Mark Miller Subaru not only sells some of the cleanest vehicles on the market--their PZEV models-- they've encouraged state leaders to adopt overall stricter vehicle standards for new cars so we can all breathe a little easier. Thanks for all you do!
---
Subaru Loves Pets Partnership - Chris W
The Wasatch Front Subaru Retailers and Mark Miller South Towne never want us to lose our pets! On Feb. 14, 2015, the Humane Society of Utah and Mark Miller South Towne hosted the first quarterly Subaru Loves Pets Event for the year. Free Avid microchips were offered to the public as a community service to increase the likelihood of owners finding their lost furry loved ones. Bringing awareness to the plight of homeless animals in Utah and encouraging the public to microchip their pet as a safe, permanent form of identification, the first Subaru Loves Pets Event was a great success. Over 700 Utah pets now have the means to find their way home in the unfortunate event the pet goes missing. The Humane Society of Utah is grateful for the sponsorship and support from Subaru and looks forward to future collaborative events to service our community and our beloved pets. To view a video recap of the event visit: http://youtu.be/z-IKA7-tOV4
---
Join the Eco-Friendly Family - Sean S
Subaru is not only a car, but a lifestyle. That is why this partnership works in such an organic and promising way. The lifestyle that Garbett & Mark Miller Subaru can offer is going to make a huge impact on the SLC Market! It is a pleasure to partner with a company that is as passionate about sustainability and "Green" living as Garbett, and look forward to have a great future!
---
Mark Miller Subaru Sponsors The Mid-Week MTB Race Series - Brooke H
Mark Miller Subaru proudly sponsors the Mid-Week MTB Race Series, a local and organically growing community of riders. Giving every rider the chance to learn and most importantly take a break during the busy week to get out in nature. Goals of the race series: The series is founded on offering a race environment for all ability levels at an affordable price $15. Additionally we offer the opportunity for families to get out together or for a parent to get their children started in mountain biking by offering a FREE kids 12 & under race. If the venue can accommodate we put on 2 FREE kid races, one especially for the little tikes on peddle-less bikes & one for those capable the rip'n groms. Summer nights are purely focused on having fun, racing and spending time together, not only as a partnership but as great friends. Mark Miller Subaru and the Mid-Week MTB Series look forward to years of memories and living the culture of Subaru. Join the fun today. - Mark Miller Subaru
---
Mark Miller Subaru South Towne's Excellent Customer Service - Lundy W
To the manager, My name is Lundy Wren. I and my granddaughter Kathryn McKeever came to your dealership on June 10, to look for a car. She lives in Cedar City, Utah and had driven up late the night before. We only had one day to get a deal done because she had to be back for work on Wednesday and by the time we reached your store it was late in the afternoon. Manny came out to greet us and right away I felt at ease with his easy demeanor. I could tell right off there would be none of the high pressure sales tactics we had encounter in most every other dealership we had been to throughout the day. He patiently showed her car after car until she found one she loved and let her drive it. It was a White 2013 Subaru Legacy. He took us into your waiting area and offered us refreshments while we got the process started. Both men were extremely knowledgeable of the products and their jobs and took excellent care of us through the entire process. They really seemed to care about us. If they were just acting then they are extremely good actors. I don't think it was an act, I think they really are good at their jobs and really do care about the people they come in contact with. If these two fine gentlemen are any indication of the caliber of people you have working there then it's understandable why you've been in business so long. Please pass my thanks and kudos on to both of them and thank you so much for having them there to help us. Sincerely, Lundy M. Wren
---
Mark Miller Subaru's Unique Interest in the Community - Summer S
My first car was a Subaru. I bought it used and abused and it still ran like a champ. I was in love. Eventually, I had to part ways with my beloved GL but I always knew I wanted another Subaru. Years later as a business owner I was approached about partnering on events with Mark Miller Subaru. I, of course, did not hesitate because although I no longer owned a Subaru, I was still a fan. Time went on and several events later I began to realize several things. Subaru itself was amazing. It really had a unique interest in the community and Mark Miller Subaru not only supported events at my store they also graciously contributed to events for the Sugar House community. Pretty soon I had a Subaru again and more and more of my customers followed suit. Do you blame them? Those who drove Subarus were like some crazy family and it was good to be part of the family again. Before I bought my second Subaru I had been hesitant about buying a new car. Okay maybe hesitant is an understatement-I was actually petrified. At this point, I had never had a car payment in my life and was very hesitant to even consider buying a new car. I began to talk to the Event Coordinator, Chris Woolston about my trepidation. He assured me that buying a car from Subaru would not be the experience I was so frightened of.
---
Lending a hand by Landscaping - Mark M
United Way Day of Caring We're always happy to lend a helping hand. At this event, we spent the morning helping with basic landscaping at Head Start Salt Lake and many other constructive projects.
---
Spring Event Brings Subaru Owners together - Mark M
2013 Rally Into Spring Subaru Meet More than 120 vehicles and 250-plus people attended this fantastic event. A BBQ was available, live music streamed over speakers, and Subaru owners had a great time catching up.
---
Event helps children get involved with mountain biking - Mark M
Mid-Week Mountain Bike Race Series The series is founded on offering a race environment for all ability levels at an affordable price - $15. Additionally we offer the opportunity for families to get out together or for a parent to get their children started in mountain biking.
---
Tree Utah and Project Oxygen - Mark M
Tree Utah and Project Oxygen For every car we sell in 2014, we're planting a tree with a local organization TreeUtah and the Salt Lake County "Million Trees" foundation.
---
Utah FACES - Mark M
Utah FACES This year, more than $900 dollars was raised for Utah FACES to help in the fight of pet homelessness.
---
Coffee Talk Wednesdays - Mark M
Coffee Wednesday Mark Miller Subaru reaches out to the community with an event called "Coffee Wednesday" on a weekly basis. Customers and employees suggest a local coffee joint, and we spend two hours socializing and getting to know our community. And the best part? With a simple Facebook "like," coffee is on us. It's a joy to sit down and simply get to know our customers and local business owners! People are encouraged to show us their Subie keys for an extra bit of swag. All are welcome; your choice of beverage or warm cup of joe awaits you. Know of any local coffee shops in Salt Lake City that Mark Miller Subaru should check into? Be sure to email us those suggestions at marketing@markmiller.com. Don't miss the next stop. Check in on our Facebook page. We can't wait to spend a few hours with our Subaru Fam. Sincerely, Mark Miller Subaru Team
---
Mark Miller Supports Discrete Clothing and Julian Carr - Julian C
Discrete Clothing My name is Julian Carr, professional skier and founder of Discrete clothing. My work - and 2011 Subaru Outback - take me all over the country. In the last 2 1/2 years, these are all the places I've adventured to in my Outback: Aspen, Boulder, Whitefish, Los Angeles, Yellowstone, Sun Valley, Salt Flats, Breckenridge, Vail, Alta, Snowbird, Solitude, Park City, Snowbasin, Stevens Pass, Bozeman, Missoula, Teton Pass MT, Whistler, Portland, San Francisco, Denver, Ecola Point (Oregon), Bend, Venice, Malibu, Yosemite, Tahoe, and Jackson Hole. I've had many times where I thought I was going to run out of gas in a blizzard in the middle of the night - with the needle so far below empty, it was impossible the car kept going - but it did! I've pulled up to important business lunches, impressing my clients with the car, helping me land new accounts. I've pulled into countless ski resorts with heads turning checking out my incredible wrap job displaying Discrete and Mark Miller Subaru. I could go on. At the end of the day, my car and I have a very tight bond. I am a Subaru driver for life. I love my Subaru Outback. -Julian Carr
---
Outback helps professional photographer capture the perfect shot - Adam B
Adam Barker Photography My name is Adam Barker, and I make my living as a professional active lifestyle and outdoor photographer. Clients rely on me to produce exceptional work, regardless of the obstacles. I need to be able to rely on my vehicle to get me where I need to be, when I need to be there. I have that reliability with my Subaru Outback. Even better, I have a team of passionate, trustworthy individuals behind that vehicle. Mark Miller Subaru and Subaru of America have been key components in helping me go further, climb higher, and dig deeper in my quest to capture the micro-seconds that define our most memorable moments. My vehicle, and my relationship with the good folks at Mark Miller Subaru have been integral in helping me capture some of my most memorable imagery, like this classic bend of sacred water in Montana. I know that there are very few places my Subaru can't take me. And that's as good as any camera body or lens in my quiver. They say that getting lost is just another way of saying "going exploring". Here's to many more years of getting lost with my Suby! Adam Barker www.adambarkerphotography.com 801-550-9141
---
Mid-Week MTB Race Series - Mark M
Mid-Week MTB Race Series Mark Miller Subaru proudly sponsors the Mid-Week MTB Race Series, a local and organically growing community of riders that gives every rider the chance to learn about racing. Additionally, we help parents introduce their children to mountain biking by hosting a FREE kids 12 & under race. Summer nights are purely focused on having fun, racing and spending time together, not only as a partnership but as great friends. Mark Miller Subaru and the Mid-Week MTB Series look forward to years of memories and living the culture of Subaru.
---
Mark Miller Subaru's Green Dealerships - Mark M
Environmental Awareness When the Mark Miller Subaru South Towne and Midtown stores in Salt Lake City say they're green, they mean it. Environmental awareness is part of the business plan. In fact, the dealership group has an environmental mission statement. Mark Miller Subaru has made improvements to the facilities to reduce waste at both locations. The car washes collect and recycle much of the used wash water, which ends up saving about 75 gallons per car wash. Recycled materials make up most of the floor and wall coverings in the dealerships, including the service drives and service bays. The locations adjust lighting in the building based on available sunlight, which reduces electricity usage. Refurbished bathrooms use less water and reduce paper trash.
---
Mark Miller's Do Good Feel Good Event - Mark M
Do Good Feel Good EventSince 2011, Mark Miller Subaru Midtown and South Towne locations have generated more than $250,000 in donations toward the annual Do Good Feel Good Event. Every April, Mark Miller Subaru donates $75 to a local non-profit for every car sold. Customers can select which charity to support. In 2013, their options were as follows: Boys and Girls Club of Salt Lake, HEAL Utah, The Ronald McDonald House, Special Olympics, Utah FACES, and the YWCA! This year, five brand-new charities will participate in the Do Good Feel Good Event. At the event's close, they hold a gathering at either Mark Miller Subaru South Towne or Midtown to celebrate! Each non-profit has their own booth on site and can teach individuals what they do and how they impact Utah. All proceeds from the event go toward the charities as well. Every year, we look forward to the Do Good Feel Good Event and how much it gives back to our community.
---