What is the Subaru Love Promise?
Subaru and our retailers believe in making the world a better place and the Subaru Love Promise is our vision of respecting all people. This is our commitment to show love and respect to our customers and to work to make a positive impact in the world.
The 2021 Subaru Love Promise Customer and Community Commitment Award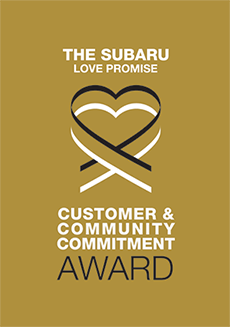 We've been nationally recognized for our dedication to our customers, our community, and the Subaru Love Promise.
We're honored to receive the 2021 Subaru Love Promise Customer and Community Commitment Award. This award nationally recognizes elite Subaru retailers who provide an exceptional customer experience at every interaction with Subaru. These retailers have also demonstrated an outstanding commitment to supporting passions and causes in their local communities in important areas such as the environment, community, health, education, and pets.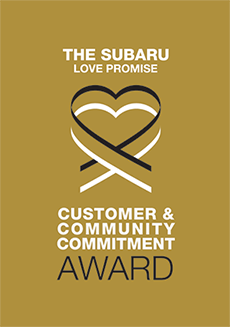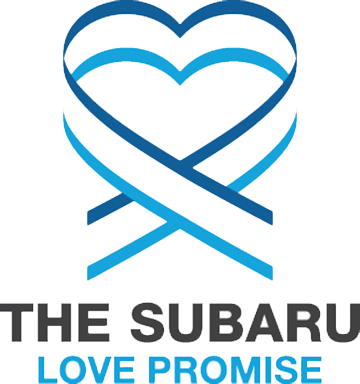 What is the Subaru Love Promise?
Subaru and our retailers believe in making the world a better place and the Subaru Love Promise is our vision of respecting all people. This is our commitment to show love and respect to our customers and to work to make a positive impact in the world.
How is Mark Miller Subaru South Towne dedicated locally to the Love Promise?
At Mark Miller Subaru, our Love Promise to Utah and the Salt Lake area can be seen in our partnerships with local nonprofits and charities. We are grateful to not only to be part of the Salt Lake community, but to serve it as well.
Discovery Gateway Children's Museum
Big Brothers Big Sisters of Utah
Love Promise Stories from Mark Miller Subaru South Towne
Subaru and Mark Miller Subaru South Towne believe in making a positive impact on the communities in which we live and work. We uphold that belief through our Love Promise Community Commitment. Every month, we select inspiring stories from customers and partners from around our area who strive to support our collective commitment and feature them here
Leaving a MARK on our Students - Joseph D
August is Subaru Loves Learning month, and Mark Miller Subaru doubled down to provide school supplies for both students and teachers this year. As part of the United Way of Salt Lake "Stuff the Bus" campaign to collect school supplies for students across the Wasatch Front, Mark Miller Subaru held a mini-bus stuffing event for our customers and staff. In just two weeks, we were able stuff both of our mini-buses with school supplies, which filled up the back of two Subaru Outbacks! In addition to all those school supplies, a vendor of Mark Miller Subaru made a generous $1,000 donation to United Way to purchase even more supplies! Two employees packed up the Outbacks and delivered the supplies to a drop-off location. On behalf of all our customers and staff who donated, thank you! We were excited to Leave our MARK for Subaru Loves Learning and support students in our local community. Overall, the Stuff the Bus campaign collected over 100,000 physical supplies (backpacks, folders, notebooks, pencils, pens, crayons, markers, glue sticks, +++) and $42,000 in donations that will help 13,000 students from 26 schools and eight community centers get the school supplies they need for the upcoming school year. For teacher supplies, Mark Miller Subaru is excited to partner with Mill Creek Elementary and Kearns Jr. High this month as part of the Subaru Loves Learning initiative and new partnership with Adopt-A-Classroom.org. Both schools are Title I schools that have many families who simply cannot afford to buy school supplies for their children. By adopting 6 classrooms and donating $6,000, Mark Miller Subaru will help teachers buy supplies for students and help ensure they can focus on what really matters – learning!
---
Love Promise and Rainbows - Crystal G
Love Promise and Rainbows - Crystal GAs Utah natives and loyal Subaru owners, we were thrilled when we heard that our local Mark Miller Subaru had partnered with Project Rainbow in support of our LGBTQ+ community. We currently own our fifth Subaru because of the safety and reliability that it provides for our family during our summer/winter outdoor adventures. We have also been supporters of Project Rainbow's flag program since we heard about it a few years ago. This year we volunteered to be our neighborhood liaisons to help spread word of their mission even further. The Project Rainbow flag program allows community members to have a rainbow flag staked at their home to help fund campaigns that promote LGBTQ+ visibility throughout Utah. We are a family who values diversity and this is a neat way for us to show our LGBTQ+ ally status. This year we flew our flag extra high, in honor of our middle child who recently came out as non-binary. We feel lucky to raise our children in a world where they have the opportunity to explore who they actually are, instead of who others expect them to be. We are so proud of our child, and it has been fun getting to know them in a whole new way. I can't imagine how freeing it must be! A million thank yous to Mark Miller Subaru and to Project Rainbow for partnering together to stake 4,500 flags during this year's Utah Pride Week! The sight of all the rainbows gave me hope that someday children like mine will be free to just BE.
---
Do Good Feel Good. Supporting Our Community. - Joseph D
After taking a brief hiatus from our favorite event last year due to the pandemic, Mark Miller Subaru and our Love Promise charity partners hosted our 13th annual Do Good Feel Good Community Day Event on June 19, 2021. More than 100 people joined to meet our Love Promise partners, cool down with free ice cream and churros, and watch on as we presented our donation checks to our partners and give away a 2021 Subaru Impreza to one lucky winner. Mark Miller Subaru and our customers raised a total of $43,000 for our Love Promise charity partners!! During the month of May we host Do Good Feel Good, where Mark Miller Subaru donates $75 for each car sold to one of our seven Love Promise charity partners of the customer's choosing. This year's Love Promise charity partners include Street Dawg Crew of Utah (Subaru Loves Pets), Big Brothers Big Sisters of Utah (Subaru Loves to Help), Discovery Gateway Children's Museum (Subaru Loves Learning), Summit Land Conservancy (Subaru Loves the Earth), Fit to Recover (Subaru Loves to Care), The Malinois Foundation (Mark Miller Subaru Loves Veterans), Westminster College Office of Diversity, Equity, & Inclusion (Mark Miller Subaru Loves Diversity). The culmination of Do Good Feel Good is our big Community Day event where we invite the public to join us for an afternoon of fun, with the highlight being our spectacular car giveaway. Mark Miller Subaru and local radio station Mix 105 partner to collect 105 pre-qualifiers for the giveaway through on-air and on-line radio promotion opportunities. At the event, the 105 pre-qualifiers are whittled down to 15 final qualifiers who each take a turn pulling a key from our key bin to try their luck at starting the Subaru. After 11 tries, our 13th qualifier – Benjie – pulled the winning key and started his new Impreza! We want to give a special "thank you" to Jess Tiedeken of Subaru of America for joining and speaking during our check presentation on the importance of the Subaru Love Promise Community Commitment. Nothing is more important than supporting our local community, and over the last ten years Mark Miller Subaru is proud to have donated more than $2.6 million to support our local community! Join us next May for our 14th annual Do Good Feel Good!
---
Helping Fight Hunger Statewide - Heidi C
With children at home and countless adults out of work, Utah Food Bank is seeing the need for assistance significantly increase at all program and partner agency sites. Since January 2020, we have increased our deliveries by 21% and have seen a 113% increase in households served over the same time period last year through our Mobile Pantry Program. With widespread school closures last year and into this year, our Kids Café after-school meals couldn't be served, not to mention the missed school breakfasts and lunches for many children. We worked with local communities and Salt Lake School District to distribute 70,000 bagged meals to help replace these missed meals when schools were closed early last spring. During the summer we served over 195,000 meals through our Summer Feeding Program, and we continue to offer bagged meals at schools that remain closed. In total, we served 474,000 meals to kids during 2020. Currently 511,000 Utahns, which equates to 1 in 6 individuals, are at risk of missing a meal today. The need is huge. Even more alarming, 1 in 5 kids in Utah are unsure where their next meal is coming from. These statistics are staggering and it will take a collective effort to reverse these trends and fight hunger statewide in Utah, which is why we are honored for partnerships like Subaru. Shortly after the COVID-19 pandemic started moving across the United States and our country saw the extent to which it was affecting local communities, Subaru of America partnered with Feeding America to help get food in the hands of those in greatest need. This partnership was established in April 2020, where Subaru of America and the Subaru retailer network donated 50 million meals to over 200 Feeding American food bank members across the country to support those hit hardest by the pandemic, including the Utah Food Bank. Nearly a year later with a U.S. death toll of 500,000 and counting, Subaru doubled down and committed another 100 million meals to be distributed as more of our community members slipped into hunger and homelessness. As part of this initiative, Mark Miller Subaru Midtown and South Towne donated more than 450,000 meals to the Utah Food Bank to help feed Utahns in need. To engage employees and customers in this emergent food crises, Mark Miller Subaru hosted a food collection drive in March 2021 and collected another 182 pounds of food to help feed our community. Even as COVID vaccines become available to the general population, it will take time for us to recover and those who lost their jobs need to be part of our critical recovery effort. We can all do our part to let our neighbors know they are not alone by supporting and donating to the Utah Food Bank and participating in their first-ever Feed Utah statewide food drive. For more information on Feed Utah and to learn how to host your own food collection drive, visit www.utahfoodbank.org.
---
Love Heals All, Including My Renezmae - Douglas J
This is a story of love, fear, heartache, overcoming, and gratitude. This is our story of our daughter Ren and the fight for her life. My family lives in Pocatello, ID, and in October of 2014 my wife, Michelle and I went in for an ultrasound for our expected daughter. Fear struck when the tech said something did not look right. This news led to the first of many, many trips to Primary Children's Hospital in Salt Lake City--the best pediatrics specialty hospital in the region. To our dismay, our daughter was diagnosed was dilated cardiomyopathy (DMC). We were told she would be born with an enlarged heart and would likely need a heart transplant within a year. Heartache struck. We were beyond devasted, our daughter, not yet born, was already slated for major heart surgery. Ren was born on October 16, 2014, where upon she was whisked away to Primary Children's NICU in a bubble with tubes and monitors. Far away from our family and friends, we took shelter at the Children's Hospital as this would be home for the next couple months. Michelle and I researched and studied so that we were prepared as parents to take care of Ren for the short time we expected to have with her. Ren was finally released to go home with 24/7 oxygen support and a cabinet full of medications. It was challenging, but we were back in Pocatello and Ren was finally home with her two brothers! Over the next year we took frequent trips to Primary Children's. She started overcoming her condition and was about to be released from oxygen and medications until she got rhinovirus. She eventually recovered and no longer needed oxygen, but the doctors had more bad news. We were told that her heart was no longer improving and the virus exacerbated the situation. Ren needed on-going monitoring and inevitable heart transplant because she had one of the most acute conditions of DMC the doctors had seen. The emotional rollercoaster was nonstop, but our immense love for Ren gave us strength! The next five years were full of love, family, and prayers. Ren started to grow up and earned the nickname "Sassy." She never crawled; she went from rolling to butt scooting to walking, which made for some great videos. She was not the kind of child to ever take things easy or to make things easy, but we were so grateful that her condition was stable and we had that time together. Ren got to live life as a little girl and do all of the things healthy kids do—she learned to swim, sing and dance, and went on roller coasters and camping trips. She found a love for ballet and won two medals. Life was normal, but we were always vigilant, always waiting, always concerned. One night in January 2020, Michelle noticed a change in her breathing pattern as she slept. Before we knew it, we were back in the familiar setting of the emergency room. We were told her heart was failing and we were preparing for the worst. She was finally listed for heart transplant. It's at this point in the story where Ronald McDonald House Charities (RMHC) and Mark Miller Subaru came into our lives. Ren had three open heart surgeries over the next three months, was intubated for 17 days, and had a RVAD (right ventricular assisted device) and a LVAD (basically a portable pump that is inserted into the heart to help pump blood). We became full-time residents of RMHC, and because of the COVID-19 pandemic they had to give us off-site housing. That meant multiple trips from the house to the hospital each day. To say money was tight would be the understatement of the year. Luckily, RMHC gave us a free Subaru rental vehicle through the support of Mark Miller Subaru so that my wife and I could be there for our daughter while still trying to keep our family together. We cannot thank Mark Miller Subaru enough for their support; without it, life would have been utterly chaotic while juggling life with two boys in Pocatello and a sick daughter in a Salt Lake City hospital. Travel engulfed our life and exhausted us. We finally decided to pack our house into a storage unit and fostered out our pets until we were able to get back to normal life. Many long and solitary months passed by, until finally in January 2021 we got the call. Ren squealed with joy as luck shined on us and a compatible heart transplant became available. Everything with the transplant went textbook perfect and recovery time was unheard of. But with the good comes the bad, and after a few days we discovered Ren had a brain bleed. She bounced back with some medication, and as of now things seem to be progressing at a pretty good rate. She's been released from the hospital, her numbers continue to stabilize and look good, and she is filled with her normal sassy personality. No child should have to go through what our little Ren has experienced these past five years, but our love prevailed and at her current recovery rate, we are planning to return to Idaho in a couple of months and start a new chapter in our lives.
---
Community is the road to recovery - Maara B
The mission of Fit to Recover is to provide a safe place for people recovering from substance misuse disorder to connect through fitness, nutrition, creative arts, and community service. As the Community Service Director, it's my job to coordinate our community service projects that our clients participate in each quarter. However, finding COVID-friendly projects has been a real challenge this past year. For 2021 I decided to narrow my focus to our own neighborhood and see who may be in need of community service projects in our backyard. That's when I reached out to Riley Elementary. Admittedly, I didn't know much about them other than they were an elementary school up the road from us. My timing was perfect. I learned Riley Elementary served kids in kindergarten through 5th grade and was about to start in-person classes again for the first time since the beginning of the pandemic. Angela, the school principal, was ready to take every precaution to keep the students and faculty safe but was apprehensive about the amount of PPE they had and would need as they started re-opening. It felt like true serendipity, a way for our Fit to Recover community to support our elementary school neighbors by providing some PPE. Then I started thinking "how are we going to pay for this?" Fit to Recover is a very lean non-profit, and our clients are struggling to rebuild their lives. We did not have the financial means to pulls this off. Enter Mark Miller Subaru and their Love Promise program. Fit to Recover could not be more excited about our partnership with Mark Miller Subaru as their "Loves to Care" partner. I reached out to them to see if there was anything they could do to help Riley Elementary. Before I could even finish asking them for help, they were quick to respond "absolutely." The school has 12 home classrooms for students, so our plan was to provide each classroom with a gallon of hand sanitizer, kid-sized masks, and a book on returning to school during the pandemic that teachers could read with their students to help teach them safety procedures in a fun way. Minus the masks, our plan was successful (apparently kid's masks are in high demand with so many schools returning to in-person)! We dropped off our supplies with Angela today, and wished everyone a safe and fun return to class. We look forward to staying in touch with our friends at Riley Elementary to see how we can continue being the best neighbors we can be, and providing meaningful community projects for our Fit to Recover clients to practice acts of selflessness and love!
---
Mark Miller Subaru Veterans Day Recognition - Jenny C
On November 10, an army of volunteers from The Malinois Foundation collaborated with Mark Miller Subaru to recognize Veterans for Veterans Day. Together, we placed over 80 "A Hero Lives Here: signs in Salt Lake County and surrounding territories for Veterans who responded to our call to action. Our audience of military members and military families signed up in advance through up for their sign to be delivered to honor Veterans. The response was amazing! We met a Purple Heart recipient, Veterans who served in World Wars, Afghanistan, and in many other service capacities to serve our country. We know we can never fully repay or thank our Veterans for their service. However, this small gesture was sincerely appreciated by our recipients. Tears were shed, and stories were shared. We made relationships with Veterans in the community we would have never had the opportunity to cross paths with. Thank you, Mark Miller Subaru, for sponsoring this meaningful project. We hope to continue the tradition each year! The marketing team from Mark Miller Subaru was so nice to create this short video for us. It's an awesome recap of the event. https://www.facebook.com/watch/?v=3394707507315619
---
Stanley's Story - Lindsay O
Sweet Stanley was rescued by Nuzzles and Co. from the Navajo Reservation after he was found injured, limping on his front leg. Stanley was suffering from a suspected gunshot wound, and the wound on his leg was extremely infected. We do not know how long he had been injured for but he was in terrible pain. We rescued Stanley and brought him back to our Rescue Ranch where our veterinarian examined him. Stanley was found to have a complete open fracture of his left front leg, along with a very bad infection. The only course of action to alleviate his pain was to amputate his leg. As our loving veterinary staff prepared Stanley for his amputation, sweet Stanley was very affectionate with them - it seemed he knew they were there to help him. Stanley did well through the procedure and the very next morning was up and walking around, but unfortunately by that evening, Stanley's health declined and he stopped eating. Our veterinarian could tell something was wrong. After some tests were run, he was diagnosed with Parvovirus. Our veterinarian immediately placed Stanley on supportive care and IV medications. We all hoped that he would pull through. After a few days Stanley started to improve, and he started eating again. Stanley was such a fighter - we just knew he would be okay! As the days went by, Stanley got a little better each day and once he was stable, we placed Stanley in a loving foster home to help nurture him back to health. Stanley made a full recovery and came back to the Rescue Ranch just in time for the annual Nuzzles and Co and Subaru Love Pets Fee-Waived Adoption Event with Mark Miller Subaru. Everyone who met Stanley fell absolutely in love with him, and through this event Stanley was adopted into his forever home. Because of the generous support of Mark Miller Subaru and our Love Promise partnership, Nuzzles and Co is able to rescue underdogs like Stanley, nurse them back to health, and find them forever homes. We are so grateful for all of the support that we have received from Mark Miller Subaru in October through October Loves Pet Month, and through the Adoption-A-Day campaign. Nuzzles and Co. received $6200 in financial support from Mark Miller Subaru Midtown and South Towne's Adoption-A-Day campaign and found 62 dogs and cats their forever homes. In addition, during our annual fee waived event with Mark Miller Subaru we were able to find forever homes for 16 pets. Nuzzles and Co. is on track to rescue and find loving homes for over 1600 pets in 2020. This would not be possible without the generous support of Mark Miller Subaru.
---
Recycle Utah South Summit Electronics Collection - Eric M
Recycle Utah hosted a free E-Waste drop off for Summit County residents on October 3rd and was graciously sponsored by Mark Miller Subaru South Towne. One of our primary goals is to keep toxic chemicals and heavy metals out of our environment. Electronics contain materials like mercury, lead and cadmium which end up in the landfill and leach into the ground and into your drinking water. During this event, we had over 100 local residents drop off 2,000 lbs of electronics which were recycled and diverted from our local landfill. Recycle Utah cannot thank Mark Miller enough for their support of this event and through their Love Promise program. It makes a huge impact for us and our community.
---
Mark Miller Subaru Loves Their Employees - AUNNDREA K
In February the cancer came back in Dawn Saak's bones... We were all devastated. Dawn is the type of coworker that's always smiling, joking, showing concern for others, and genuinely building relationships with anyone she comes in contact with. Dawn has been with MMS for 19 years and made a lasting connection with all of her customers. She received the Subaru Summit Peak Performer Award, MMS Employee of year in 2019 and She is everyone's favorite 'Sales Mom' and "What's for lunch?" asker. She started running out of energy and cut down to only 4 days a week until she had to make the hard decision to stop coming in altogether. Due to Covid-19 we were unable to do hugs or have a company BBQ to say goodbye like we normally practice when one of our employees moves on. In order to let us all say goodbye and give Dawn a proper send-off, Mark Miller Subaru made Dawn a personalized 1000-piece puzzle as she is well-known puzzle lover. They took pictures with all the individual departments holding signs we made for Dawn and we then used those pictures to make Dawn her puzzle. They also gave everyone the chance to write a personal letter to Dawn. It meant so much to Dawn and it meant so much to all of us to be able to get that closure and let her know how much we care about her. Thank you, Mark Miller Subaru, for caring about your employees and finding a creative way for us to all come together and say goodbye despite Covid-19.
---